Entertainment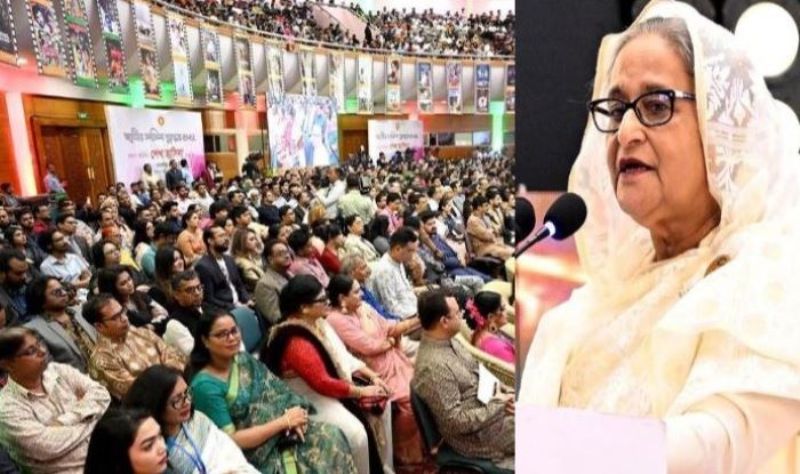 PID
Prime Minister Hasina urges film-makers to make world class films
Own Correspondent, Dhaka, 16 November 2023: Prime Minister Sheikh Hasina has emphasized on producing quality films by maintaining global standards through proper training so that Bangladeshi cinema can gain global recognition.
She said, "Film artists, directors and technicians should be trained to produce more quality films, so that our cinema can compete with world standards."
Prime Minister Sheikh Hasina said these things in her speech as the chief guest at the 'National Film Award-2022' ceremony at the Bangabandhu International Conference Center on Tuesday night. Sheikh Rehana, younger daughter of the Father of the Nation and younger sister of the Prime Minister, was present on the occasion.
The Prime Minister said, "I want you to take steps to produce world-class films using modern information technology."
She also mentioned that her government is constructing world class modern FDC complex. She said, "We want our film to be appreciated outside the country and abroad."
She called upon all the filmmakers, artists to pay attention to this issue. "As affluence has come into people's lives and they are also inclined towards entertainment, you can also create entertainment areas for them."
Sheikh Hasina said, "I will say to our brothers and sisters in the film industry who are here, who are making different films - if you look at different aspects of society, you have already proved that you can make good films."
She also pointed out that many films produced in recent times are of high quality and family entertainment.
Referring to the fact that her government passed the 'Bangladesh Film Certification Act-2023' in the last session of the National Assembly, she said, "We think that the law will introduce a system of certification in the film industry. We do not want pornographic films or piracy to continue in our country."
She said, "We want a system where we can use the talent that we all have to make good films."