Entertainment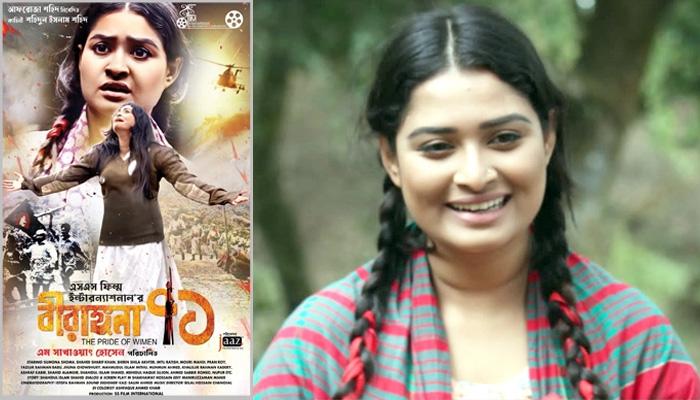 Collected
Shirin Shila's 'Beerangana 71' releases in the last week of the year
Dhaka, December 31: Shirin Shila is the new generation actress of Dhaka cinema. Her movie 'Beerangana 71' was released in the last week of the year. It is built on the story of liberation war, struggle and sacrifice. Based on the story of Shahidul Islam Shahid, dialogues, screenplay and direction by M Sakhawat Hossain, this movie is going to be released in 15 theaters of the country today.
Shireen Sheela played the title role in the movie 'Beerangana 71'. About this, the actress said, "It is my absolute fortune, I got the opportunity to act in the role of a hero. The work on it started earlier this year. The director M Sakhawat Hussain Bhai has completed the work very well. After dubbing, editing, color grading, the movie has been cleared by the censors. was submitted for. It got uncut censor. After several months of waiting, the movie is finally releasing today at the end of this year. This is my first and last movie released this year."
Shirin Sheela also said, "I have worked hard to portray the character of Veerangana. My father is played by Babu Uncle (Fazlur Rahman Babu). This is the first time I have acted with him. He has helped me a lot. At the end of the year, now it is time to promote the movie. Cutting. A special request to everyone to go and watch the film."
'Beerangana 71' is produced by M Sakhawat Hossain. Shireen Sheela is the main character of the movie. Opposite her is Shahed Sharif Khan. Fazlur Rahman Babu, Jhuna Chowdhury, Khalilur Rahman Quadri, Sumna Soma, Imtu Ratish, Mauri Mahadi, Pran Roy, Barada Mithu, Ashraf Kabir, Ahmed Sabbir Romeo and others also acted in it.