Entertainment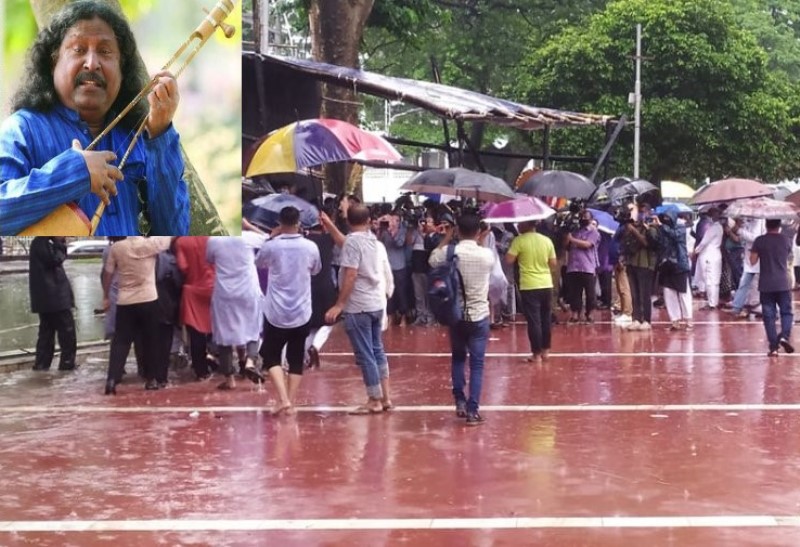 Collected
Singer Fakir Alamgir laid to rest at Taltala Graveyard
Dhaka, July 24: Numerous memories of Fakir Alamgir's life are associated with Khilgaon Taltala in the capital, and that is where this great folk musician of the country has been laid to rest. His funeral was held at Taltola Graveyard in Khilgaon on Saturday (July 24) at 1:50 pm after the second namaz-e-janaza at the Khilgaon Matir Mosque.
Mashuk Alamgir Rajib, son of Fakir Alamgir, said that the burial was completed in compliance with Corona's health rules.
Earlier, Fakir Alamgir's first namaz-e-janaza was held at the Pallima Sangsad premises in Khilgaon at 11:16 am and he was given a state guard of honor. His body was taken to the central Shaheed Minar at 11:45 am to for people to pay homage.
Fakir Alamgir was born on 21 February 1950 in Kalamridha village under Bhanga police station in Faridpur. He passed the secondary examination in 1966 from Kalamridha High School. He received his higher education from Jagannath College (Jagannath University). He then obtained a master's degree in mass communication and journalism from Dhaka University.
The eminent musician had played an important role as a member of Kranti Shilpi Gosthi and Gono Shilpi Gosthi during '69 mass upsurge.
Fakir played an outstanding role in the great movements that took place before the liberation war of 1971.
Later, Fakir Alamgir joined the Swadhin Bangla Betar Kendra in the great war of liberation. As a vocalist, he spread the desire for victory, the light of courage in the minds of the freedom fighters.
After the independence of the country, Fakir Alamgir fully concentrated on music and eventually formed the Wrishiz Shilpi Gosthi.