Entertainment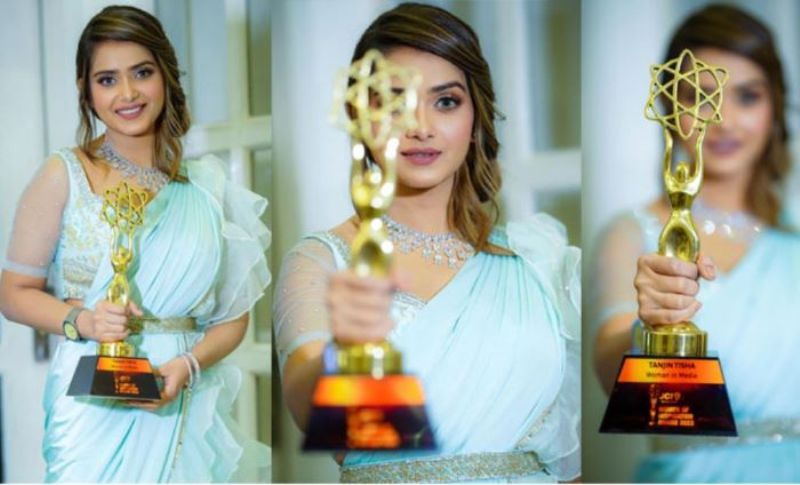 Collected
Tanjin Tisha receives 'Women of Inspiration' award
Entertainment Reporter, Dhaka, 28 August 2023: Popular small screen actress Tanjin Tisha continues to impress and inspire many with her acting. In recognition of her contribution to the showbiz arena, this actress was awarded the 'Women of Inspiration' award this year.
Twelve women have been honored with the 'Women of Inspiration' award by Junior Chamber International (JCI) for their outstanding contributions in their respective fields. Education Minister Dr. Dipu Moni attended the event organized for the fifth time at an elite hotel in Dhaka as the chief guest and handed over the awards to the winners.
Swedish Ambassador to Bangladesh Alexandra Berg von Linde and Corin Henchoz Pignani, Deputy Head of the Coordination Department of the Swiss Embassy in Bangladesh were present as special guests. According to JCI, the awardees have demonstrated their leadership qualities, outstanding dedication to the cause and inspired countless people through their work.
Reacting to the award, Tanjin Tisha said, "The 'Women of Inspiration' award will truly inspire women to do better in their respective fields. It is different and an honor from many other awards. An invitation to an event that recognizes my contribution to the entertainment industry. Special thanks to the authorities for awarding the award."
Apart from Tisha, other awardees this year included Munzerin Shahid in Education, Saraban Tahura Turin in Information and Communication Technology, Fadia Khan in Commerce, Farha Naz Zaman in Corporate, Rupna Chakma in Sports, Sadia Haque in Startup, Rokeya Sultana in Art and Literature, Banking Noorun Nahar Begum in the field, Dr. Saeba Arthtar in Medical Innovation, Shabnam Wazed in Emerging Women Leadership and Dilara Zaman in Lifetime Award.