Entertainment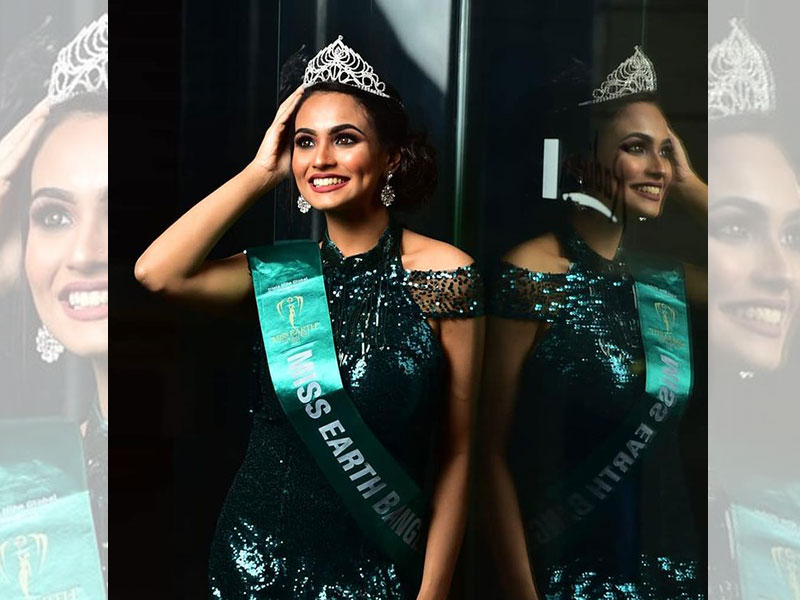 www.instagram.com/missearth_bd
Umme Zamilatun Naima crowned Miss Earth Bangladesh 2021
Dhaka, September 27: Umme Zamilatun Naima has been crowned Miss Earth Bangladesh 2021, which was held on September 24 at a five star hotel in Dhaka. It is known as the only international environmentally conscious beauty contest in the world. Licensed organization Triple Nine Global and Rotary District 3281 jointly organized this year's event. Competitors' education, talent, environmental thinking and presentation style are considered as criteria.
Shakila Anjum Tanha, Pial Sarker and Fahmida Zahir Barsha were awarded Miss Air, Fire and Water Bangladesh respectively. Farzana Jahan Preya and Arusha Abida were also selected as Miss Beautiful Face and Miss Social Media Influencer respectively.
Dr. Mubarak Ahmed Khan, the inventor of the gold bag; Professor Abdullah Abu Saeed, a spokesman for the environmental movement; Abdul Mukit Majumder, head of the Nature and Life Foundation; Rotary District 3281 Governor Motasim Billah Farooqi; Environmental protection organizer Naila Bari; And environmentalist Dr. SI Khan was awarded the 'Friends of Nature' honorary memento.
In his keynote address, Dr. Hassan Mahmood, Environmental Researcher and Hon'ble Minister of Information and Broadcasting, thanked the organizers and congratulated the awardees.
"To save the only accommodator of humans- Earth- we have no other choice but to protect its nature and environment, in order to keep it alive. This requires joint efforts and a sustainable partnership."
National Director Naila Bari, Miss Earth Bangladesh 2020 Meghna Alam and Rotary First Lady Rokeya Farooqi crowned the winners.
The theme song was performed by Prottoy Khan, Anika, rapper Hasan and Anu.