Entertainment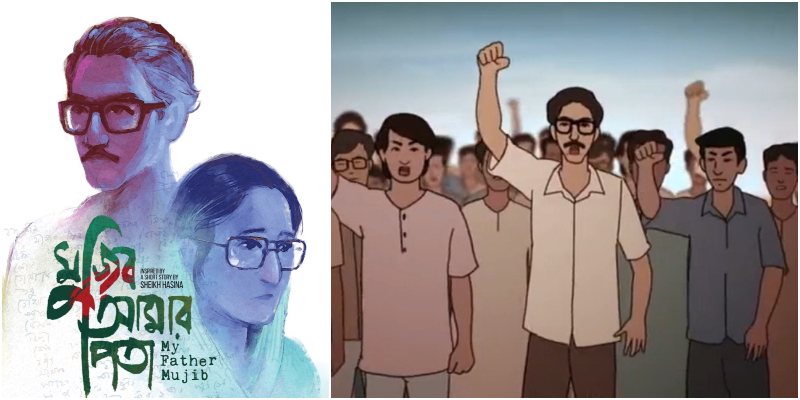 Photo: Collected
World premiere of animation film 'Mujib Amar Pita' held in New York
New York, May 10: The country's first full-length animation film 'Mujib Amar Pita' based on Bangabandhu's biography was screened in New York, USA.
The world premiere of the animation film based on the biography of Father of the Nation Bangabandhu Sheikh Mujibur Rahman was held on Sunday at the Bombay Theater in Queens, New York.
This has been informed in a press release received in Dhaka on Monday. The ICT department has made an animated movie with the aim of conveying the story of Bangabandhu's life to all including the new generation of children and teenagers from home and abroad.
A protesting teenager from Tungipara one day became a symbol of hope and aspiration of the people of a country, a dreamer of freedom, a great hero of history. The film traces back to the language movement of 1952, a stage in the path of the great struggle.
Minister for Liberation War Affairs AQM Mozammel Haque was present as the chief guest and State Minister for Information and Communication Technology (ICT) Junaid Ahmed Palak was the special guest.
Permanent Representative and Ambassador of Bangladesh to the United Nations Rabab Fatima and Managing Director of Hi-Tech Park Bikarna Kumar Ghosh were present at the function organized by Dr. Mohammad Monirul Islam, Consul General of Bangladesh in New York.
Besides, a large number of expatriates had gathered at the Bombay Theater in Queens to watch the film based on the writings of Prime Minister Sheikh Hasina.
State Minister for Information and Communication Technology Junaid Ahmed Palak said, "We have screened the movie 'Mujib Amar Pita' in different cinema halls of Bangladesh. This time the world premiere has been organized in New York to present Bangabandhu's life philosophy and political ideology to the world."
He further said, "Another film is being made on the unfinished autobiography of Bangabandhu. I am developing a game on the liberation war. As a result, it is possible to highlight the potential of Bangladesh in the gaming and animation market."
The animation film is directed by Sohail Mohammad Rana. It was said in the programme that the movie will be screened in different cities of the United States after its world premiere in New York.