Finance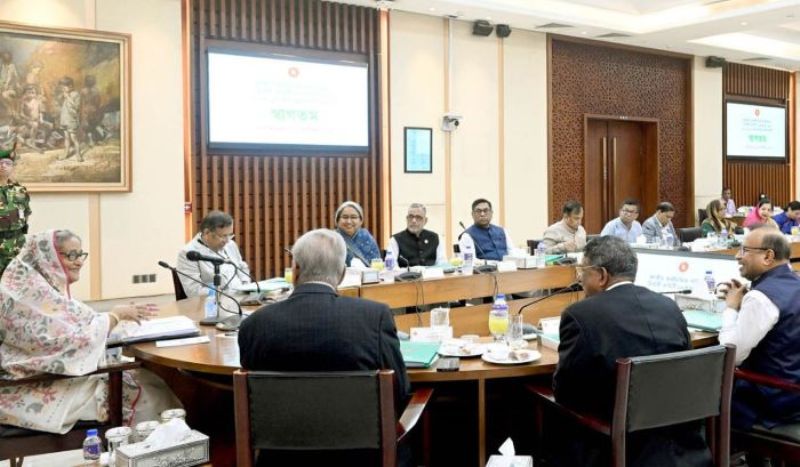 PID
19 projects sanctioned in ECNEC
Own Correspondent, Dhaka, 13 September 2023: Nineteen projects have been approved in the meeting of the Executive Committee of the National Economic Council (ECNEC). A meeting was held at the NEC conference room in Sher Bangla Nagar of the capital on Tuesday. ECNEC Chairperson and Prime Minister Sheikh Hasina presided over the meeting. After the meeting, Planning Minister MA Mannan and State Minister for Planning Dr. Shamsul Alam gave details to the reporters.
The planning minister said that the total cost of 19 projects approved today is estimated at 18 thousand 66 crore 52 lakh taka. Out of this, 12 thousand 60 crore 19 lakh rupees will be available from government funds, 5 thousand 555 crore rupees will be available as foreign loans and 450 crore 72 lakh rupees will be received from the organization's own funds.
Approved projects are:
The three projects of the Ministry of Road Transport and Bridges are respectively 'Upgradation of District Highways to Appropriate Standard and Width (Khulna Zone)' Project, 'Feni (Mohammed Ali Bazar)-Chagalnaya-Karerhat Road (Dhaka-Chittagong Old Highway) (Z-1031) Widening and Feni Construction of Shubopur Bridge over the river' project and 'Emergency rehabilitation and reconstruction of various roads, bridges and culverts under Sunamganj and Habiganj Road Division affected by 2022 floods' project.
The four projects of Ministry of Local Government Rural Development and Cooperatives are respectively 'Construction of Kadamarsul Bridge over Shitalakshya River near Gudaraghat No. 5 of Narayanganj City Corporation', 'Physical Infrastructure Development (Roads and Drains) of Gazipur City Corporation' Project, 'Land Acquisition for Construction of Sewage Treatment Plant in Rayerbazar Area' Project and 'Empowerment of Women to Take up Productive and Potential Work Opportunities (SWAPAN)-Phase II' project.
Ministry of Law, Justice and Parliamentary Affairs 'Construction of Mazar Masjid in Bangladesh Supreme Court Premises' project; Ministry of Shipping's 'Expansion and Development of Mongla Port Facilities' Project; The two projects of the Ministry of Power, Energy and Mineral Resources are the 'Transmission Infrastructure Development of Bangabandhu Hi-Tech City in Chittagong Division Southern Region and Kaliakore' project and the '100% Reliable and Sustainable Electrification of Hatia Island, Nijhum Island and Kutubdia Island' project respectively.
"Construction of 13 new buffer godowns in different districts of the country for fertilizer storage and distribution facilities" project of the Ministry of Industry; Ministry of Agriculture's 'Strengthening BADC's Seed Supply Program at Farmer Level' project; "Integrated Livestock Development in Riverine Grazing Areas of Manikganj, Dhaka, Munshiganj, Rajbari, Faridpur, Madaripur and Shariatpur Districts" project of the Ministry of Fisheries and Livestock.