Finance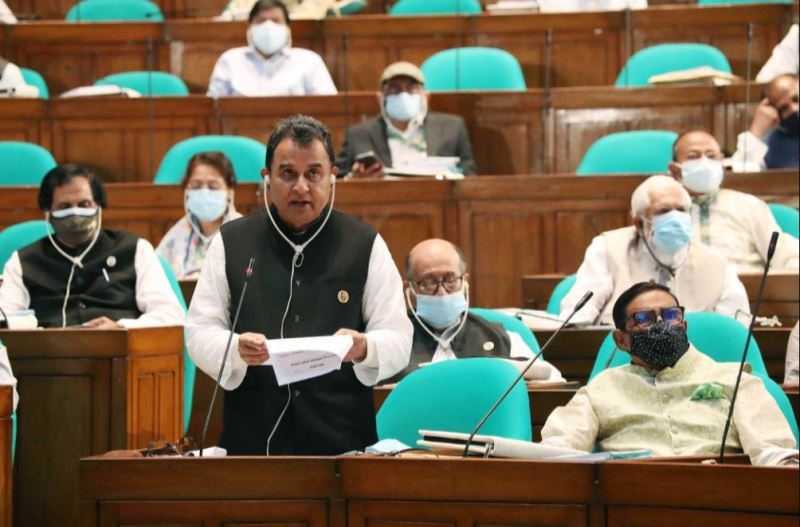 PID
2021-22 fiscal year budget passed; New financial year to start from tomorrow
Dhaka, June 30: The budget for the fiscal year 2021-22, estimated at Tk 6,03,681 crore- which is 17.5 percent of the total GDP- has been passed in the parliament.
This is the third consecutive budget of the Awami League government. Of this, a total allocation of Tk 3,78,357 crore has been made for other sectors, including management, and Tk 2,25,324 crore has been allocated for the annual development program.
On Wednesday (June 30), Finance Minister AHM Mustafa Kamal proposed to pass the bill (Specification Bill, 2021) to provide for the payment and allocation authority from the consolidated fund for the fiscal year ending June 30, 2022, and it was passed by voice vote.
Speaker Dr. Shirin Sharmin Chowdhury presided over the session. Although Prime Minister and Leader of the House Sheikh Hasina was present in Parliament, Leader of the Opposition Raushan Ershad was not. The new financial year will start tomorrow, July 1.
On Tuesday, the National Assembly passed a budget for the fiscal year 2021-22 with a decision to continue the 'special' opportunity given to black money in the industrial sector.
Earlier on June 3, the finance minister presented the budget in the parliament. After that the proposed budget was discussed at length in the Parliament session.
The health sector has been given the most importance in this year's budget. Besides, implementation of incentive packages announced by the Prime Minister, agricultural sector, food production and management have been given more importance in tackling Covid-19.
Throughout the financial year, the government will have various food-friendly programs, the scope of social security programs will be increased.