Finance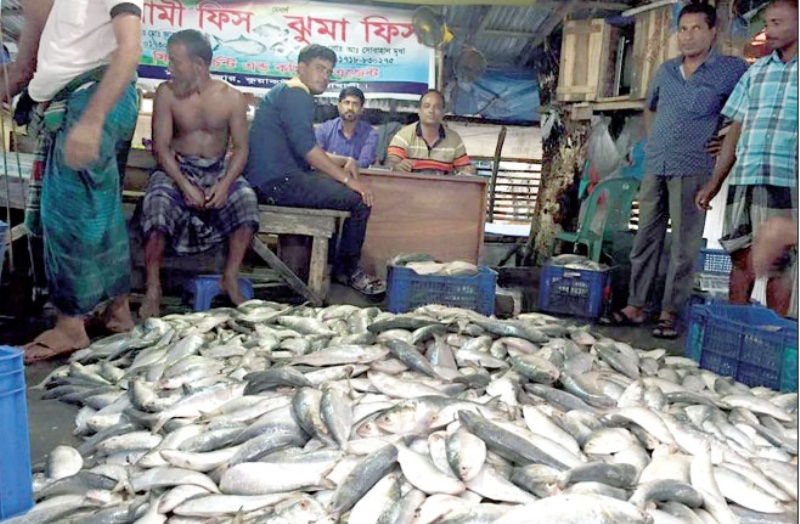 Collected
22-day hilsa ban begins Wednesday
Dhaka, October 12: During the main breeding season of hilsa, catching, selling, storing and transporting of the fish will be banned for 22 days from Wednesday, October 14 till November 4.
Fisheries and Livestock Minister S M Rezaul Karim said this at a press conference on the occasion of 'Mother Hilsa Conservation Campaign-2020' at the Secretariat on Monday.
He said, "Considering the scientific breeding time of hilsa to protect mother hilsa, the period of ban on hilsa harvesting has been increased to 22 days by amending the Fisheries Conservation Act on the basis of the full moon of the month of Ashwin."
The minister said, "Illegal attempts to extract hilsa in the country's waters will not be allowed to succeed in any way while banning hilsa extraction."
"At this time, in case of breeding of hilsa, mother hilsa will not be allowed to be extracted in any way. No one will be allowed to fish in the river where mother hilsa can be found. In addition to the patrols of the naval police and the coastguard, it will be monitored in a sophisticated way so that no boat or ship can catch hilsa. Even a mechanical fishing vessel from abroad will actually be detained in a legal process."
Wanting to bring back the abundance, taste and easy availability of hilsa to Bangladesh, the minister said, "More than 80 per cent of the total hilsa produced in the world this year has been produced in Bangladesh."
"The size and taste of hilsa is much better than other years. Hilsa was once scarce, but it is now within the reach of the common man. One of the reasons for this is that under the leadership of Prime Minister Sheikh Hasina, the Ministry of Fisheries and Livestock and various departments and agencies under it, the Naval Police, the Coast Guard and the field administration are working together."
Rezaul Karim said that hilsa production has been achieved this year breaking all previous records in overall management.
"We have taken a plan to continue this trend of production," he said. From 14th October to 4th November, catching mother hilsa has been completely banned."
"The program is being implemented jointly by the Naval Police, Coast Guard and the Department of Fisheries. We will have programs in 152 upazilas of 36 districts."
"We are providing adequate food aid to those who cannot procure or sell hilsa. So that not a single fisherman or person involved in this process is in food crisis."
"This year we will be physically on the field with others including the Naval Police and the Coast Guard so that the success of hilsa production is not hampered in any way. During the ban on hilsa harvesting, the ice factories in the area will not be allowed to open."