Finance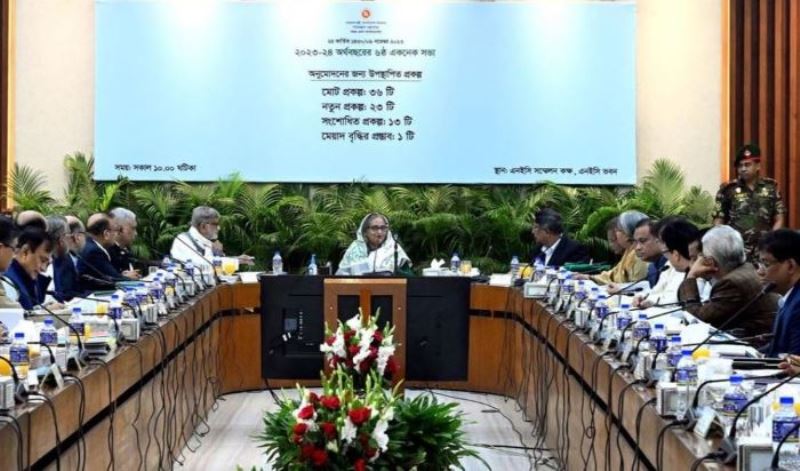 Photo: PID
44 projects approved in govt's last ECNEC meeting
Dhaka, Nov 10: Forty-four projects have been approved in the last meeting of the current government. The total cost of implementing the projects will be Tk 39,344 crore. Out of this, GOB will spend Tk 30,123 crores and Tk 768 crore will be available from foreign loans. A meeting of the Executive Committee of the National Economic Council (ECNEC) was held on Thursday (November 9) at the NEC conference room in Sher-e-Bangla Nagar. ECNEC Chairperson and Prime Minister Sheikh Hasina presided over the meeting.
Planning Minister MA Mannan gave detailed information at the press conference after the meeting. On this occasion, State Minister for Planning Dr. Shamsul Alam, Planning Secretary Satyajit Karmakar and members of the Planning Commission were present.
Notable among the projects which have been approved in ECNEC meeting today is the multi-storied government office building construction project in Dhaka's Sherbangla Nagar administrative area. Construction project of 123 flats for government officials and employees in Tejgaon industrial area of Dhaka. Canal Re-excavation, Expansion, Renovation and Development (First Revised) Project for Chittagong City Flood Relief. Road connecting Bangabandhu Sheikh Mujib Shilpanagar Economic Zone with Lakshmipur, Noakhali and Feni Districts proper mean upgradation project. Elliotganj-Muradnagar-Ramchandrapur-Bancharampur district highway upgradation project to proper standard and width. Rajuk Purbachal 300 Feet Highway to Madani Avenue Sylhet Highway Construction (Second Revised) Project.
Satkhira-Sakhipur-Kaliganj highway and Kaliganj-Shyamnagar-Bhetkhali highway proper mean upgradation project. Four-year Performance-Based Operation and Strengthening (First Revised) Project of four-lane elevated Dhaka-Chittagong National Highway (N-1) (Daudkandi-Chittagong Section). Land acquisition and utility relocation project for upgradation of Bhanga-Jesore-Benapole highway to four lanes. Construction of multi-storied residential building (3rd revision) project for cleaner residents of Dhaka North City Corporation at Gabtali City Village. Dhaka Water Supply Network Development (Second Revised) Project. Enhanced Dhaka Water Supply Resilience Project. Dhaka Sanitation Development (First Revised) Project.
Various road development, drainage and waste management development projects in Barisal City Corporation area. Introduction of Bangladesh e-Passport and Automated Border Control Management (First Revised) Project. Further Development (First Revised) Project of Bangabandhu National Stadium, Dhaka. Rajshahi Medical University (RMU) Establishment (First Revised) Scheme. Construction of necessary infrastructure and ancillary facilities expansion project of Mugda Medical College.