Finance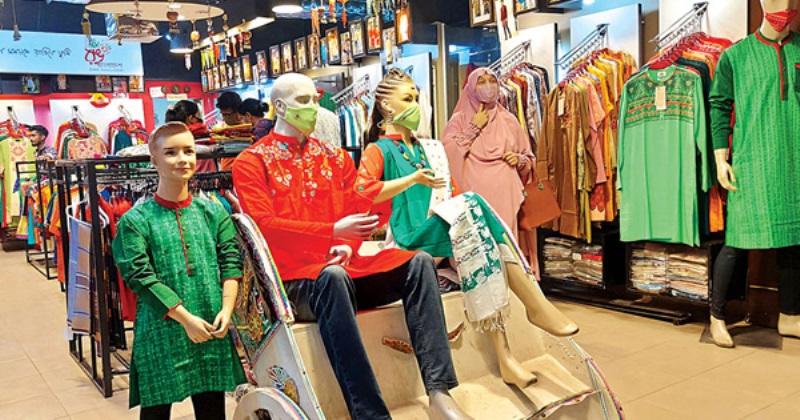 Collected
Baishakhi dress in stores, no buyers
Dhaka, April 13: Boishakh is around the corner. However, there is no gathering of buyers in the markets of the capital. The sellers do not have a smile on their face as they cannot sell Baishakhi products. The lockdown has affected the Baishakhi shopping this time as the coronavirus infection has increased.
On Tuesday (April 13), traders said that sales in the Baishakhi Amez are far from over, and sales have halved compared to the normal time. On the occasion of Boishakh, they have invested and made products. Almost all of which remain unsold. Traders will have to sit on the road if they do not get government help to bear the loss.
Fashion houses have been visited, vendors are spending lazy time. A few have a handful of buyers. One or two salesmen show their products. Others are sitting and spending time
At noon, only two shoppers met at the Orchid Fashion House in Mirpur 2 for more than half an hour. Zahidul Islam, the owner of the fashion house, said, "I am paying VAT in accordance with the government rules." The government will have to share our losses. '
He added, "There is no trade today. But I am coming with VAT. The government is giving lockdown, it is not waiving VAT of traders. We were optimistic to increase sales before the announcement of the lockdown in April. I thought I would be able to bear last year's loss. I have picked up products worth Tk 20 lakh at my two outlets. But the sales are at zero. '
Mohammad Monir, owner of Dhakai Jamdani House in Mirpur 10, said, "Earlier, during Baishakh, it used to sell for Tk 50,000-60,000 a day." Now it is difficult to trade for 10-12 thousand taka. '
"It's not for sale because of Corona," he said. There was a huge demand for red jamdani in Boishakh. This time there is no sale, those who are coming are also leaving at half price. We will be harmed, as well as those who are involved in weaving these saris will also be harmed. '
Sohail Rana, a salesman at Desaj, a fashion house in Mirpur 2, said, "Earlier, Boishakh sales were higher than during Ramadan. This time there is nothing. The owners have invested a lot of money. But there is no right idea about lockdown. When will it be normal? For this, there are doubts whether there will be a sale for the next Eid or not. '
Meanwhile, most of the fashion houses including Arang, Anjans, Rang Bangladesh, Bishwarang, K-Craft, Sadakalo, Banglar Mela, Bibiana and Nipun have put up new Baishakh clothes in their showrooms.