Finance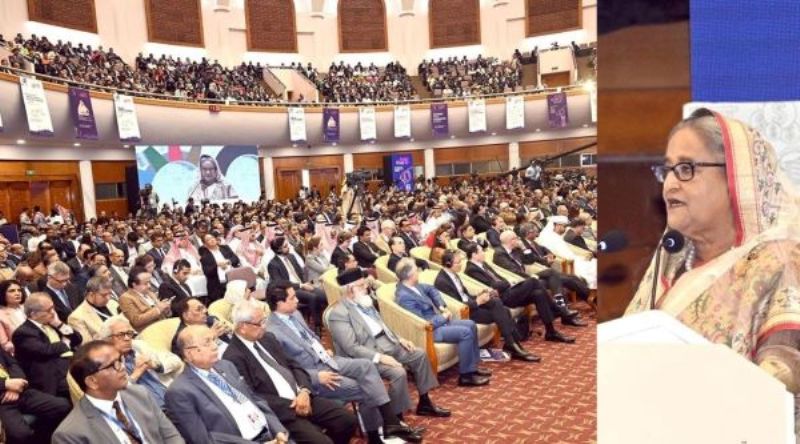 PID
Bangladesh can be a market of 3 billion people: Sheikh Hasina
Dhaka, March 11: Prime Minister Sheikh Hasina said that due to its strategic geographical location, Bangladesh can be the center of the regional market of 3 billion people. Bangladesh can play a special role in communication as a bridge between East and West.
The Prime Minister spoke at the opening ceremony of the three-day 'Bangladesh Business Summit 2023' summit at the Bangabandhu International Conference Center (BICC) on Saturday (March 11) morning.
She said, "We have proved that we can build the Padma bridge with our own funds. This bridge is not only in the southern part of Bangladesh, but this bridge will contribute greatly to our regional communication. It will improve the communication system. It will also increase domestic and international trade. Minimum 1.2 rate will help GDP growth."
Sheikh Hasina said, "Last December, we entered the metro rail era. Based on these achievements, Bangladesh now wants to transform itself into an upper middle income country by 2031 and a developed country by 2041. This is our goal. We have set our vision 2041 targets. We have formulated a plan and started implementing it. A strategic roadmap has been formulated to increase private and foreign investment, increase production efficiency, accelerate inclusive growth and build a smart Bangladesh with innovative capabilities. If growth can be continued at an average rate of 5 percent more every year, then the year 2040 hopefully Bangladesh will be able to become a trillion dollar economy by then."
Addressing the investors, the Prime Minister said that the Awami League government has given utmost importance to the investment and business environment. It will be further reformed and business friendly. Red tape violence will be removed. (On that) decision will be implemented immediately.
The Prime Minister said, "Although the whole world has stopped due to the Covid pandemic, our economy has not stopped. The GDP of 60 billion dollars in 2006 has now become 465 billion dollars."
She said, "Being an underdeveloped to developing country, we have to face various challenges. For this, I request the business community of the country to move forward with the mentality of facing these challenges. I do not want to hear any disappointment. We will provide necessary assistance from the government."
Sheikh Hasina said, "Once Bangladesh was known as a country of various natural disasters including floods and droughts. But now that is not the case. Now Bangladesh is a role model for development."