Finance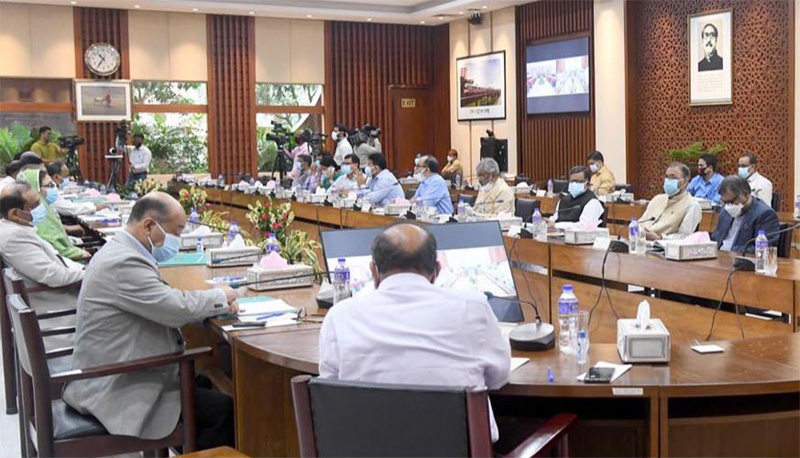 Amirul Momenin
Bangladesh govt approves four projects
The Executive Committee of the National Economic Council (ECNEC) has approved four projects at a cost of Tk 1,079.29 crore.
Of this, government funding is Tk 1,524.06 crore and the company's own funding is Tk 143.51 crore.
The meeting was chaired by the Prime Minister and ECNEC Chairperson Sheikh Hasina on Tuesday (October 20th). The Prime Minister and others took part in the meeting in the NEC conference room in Sher-e-Bangla Nagar through video conferencing from Ganobhaban.
The approved projects are- Asphalt Concrete Overlaying on Runway Surface of Jessore Airport, Syedpur Airport and Shah Makhdum Airport, Rajshahi by the Ministry of Civil Aviation and Tourism; The two projects of the Ministry of Local Government, Rural Development and Cooperatives are 'Land Acquisition and Development for Solid Waste Management in Kadmarsul area of ​​Narayanganj City Corporation' project and 'Madaripur, Shariatpur and Rajbari District Rural Infrastructure Development (First Amendment)' project respectively; Ministry of Agriculture's 'Irrigation Expansion in Greater Dinajpur and Joypurhat Districts through Surface Water Development' project.
Agriculture Minister at the ECNEC meeting. Abdur Razzak, Local Government, Rural Development and Cooperatives Minister Tajul Islam, Industries Minister Nurul Majid Mahmud Humayun, Health Minister Zahid Malek, Environment, Forests and Climate Change Minister Shahab Uddin, Land Minister Saifuzzaman Chowdhury and State Minister for Civil Aviation and Tourism Mahbub Ali were present. The meeting was also attended by Cabinet Secretary, Chief Secretary to the Prime Minister, Chief Coordinator for SDG Affairs, members of the Planning Commission, secretaries of concerned ministries and senior officials.