Finance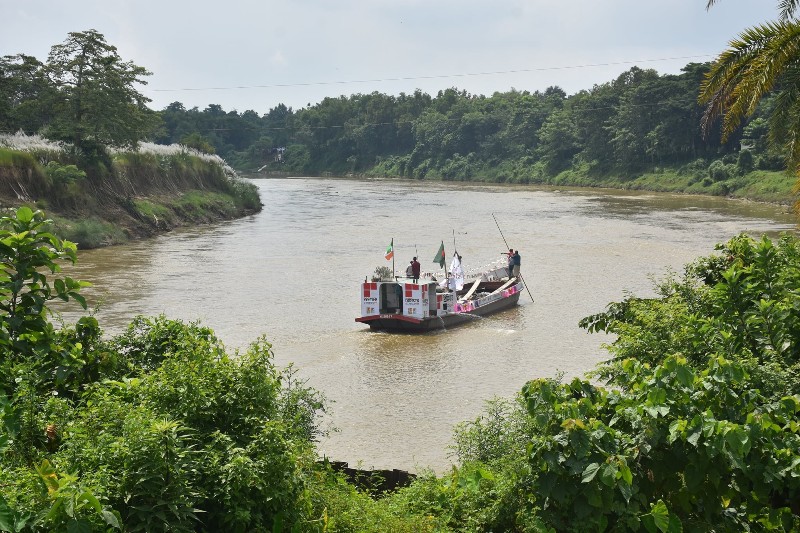 Collected
Bangladesh-India maritime trade stuck in Gomti's naval crisis
Dhaka, December 9: Stakeholders of the two sides were looking at new possibilities for maritime trade between Bangladesh and India's Tripura and North-East centered on the Gumti River. But due to the naval crisis in Gumti, the initiative stumbled at the beginning. BIWTA says a project worth Tk 315 crore has been taken to restore the river's navigability, which is in the planning commission for approval.
It is learned that on September 5, a barge carrying 10 tons of cement went to Sonamura in Tripura via the border of Comilla's Bibirbazar. At that time, the Bangladesh Inland Water Transport Authority (BIWTA) officially informed the Indian officials about the vessel in the land port area of ​​Bibirbazar. But due to the naval crisis of the river, the trade activities of this route got stuck.
According to Water Development Board (BWDB) sources, the 92-kilometer Gumti River flows through Daudkandi, Titas, Muradnagar, Debidwar, Burichang-Brahmanpara and Adarsh ​​Sadar upazilas of Comilla.
Just as there is a naval crisis in the summer for commercial navigation between the two countries, the increase in water during the monsoons has made it difficult for 23 small and large bridges over the river to carry large cargo ships. As a result, BIWTA is importing and exporting goods in small ships.
On the day of the inauguration, the ship laden with cement got stuck under the bridge at 14 points due to naval crisis and low depth. The first consignment arrived in India four hours later than scheduled.
Tripura Chief Minister Biplob Kumar Dev was present at the inaugural function in Sonamura, India. On the other hand, BIWTA Chairman Commodore Golam Sadeq inaugurated it at Bibirbazar land port in Comilla. Indian High Commissioner (then) Riva Ganguly Das was also present at the time.
Md. Abdul Latif, executive engineer of BWDB, said, "If import-export starts by waterway, work will be done to protect Gomti Raksha Dam. In Gomti, when the flow of water increases in the rainy season, no boat can move under the low height and unplanned bridges. On the other hand, in summer the water flow is so low that it is not possible to move small cargo vessels. We have to start the activities by bringing back the navigability of the river through excavation."