Finance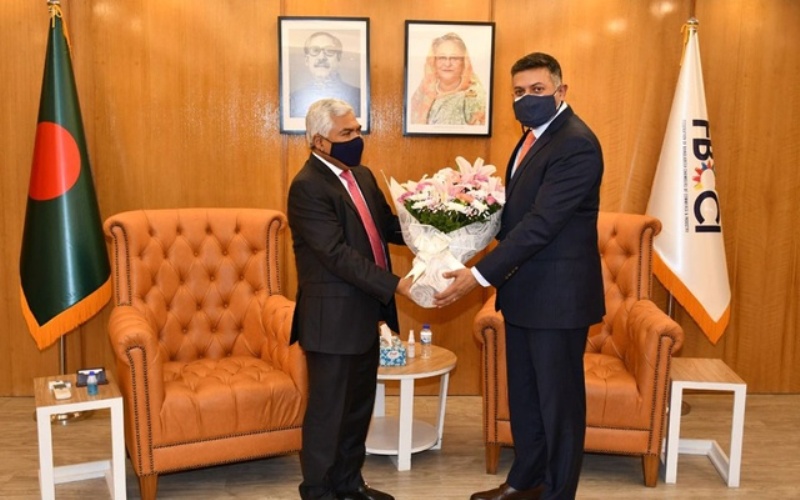 Photo: Collected
Bangladesh-India trade almost doubled in a year: Doraiswami
Own Correspondent, Dhaka, January 19: Indian High Commissioner to Dhaka, Vikram Kumar Doraiswamy, said in a courtesy call on FBCCI President Md. Jasim Uddin at Motijheel Federation Bhaban on Tuesday that the bilateral trade between Bangladesh and India has almost doubled in the last one year. He also mentioned that there is an opportunity to further increase trade between the two countries.
The Indian High Commissioner said, "Bangladesh-India trade has increased by 94 percent in the last one year. At the end of the current financial year, Bangladesh's exports to India are expected to surpass two billion dollars for the first time. India is keen to take this trade relationship between the two countries to a new level. We look forward to working with the FBCCI, the country's top business body."
An analysis of data from the Export Promotion Bureau (EPB) shows that trade between India and Bangladesh increased by 298 crore 30 lakh dollars in FY 2020-21 compared to the previous fiscal year. In the fiscal year 2020-21, the trade volume between Bangladesh and India was 987 crore 29 lakh dollars. In that year, goods worth 127 crore 96 lakh dollars were exported to India. Products worth 859 crore 33 lakh dollars were imported from the neighbouring country. In other words, there was a trade deficit of 731 crore 36 lakh dollars with India that year.
In the fiscal year 2019-2020, the trade volume between the two countries was 688 crore 99 lakh dollars. Goods worth 109 crore 63 lakh dollars were exported to India, and products worth 579 crore 35 lakh dollars were imported from the country. The trade deficit that year was 469 crore 71 lakh dollars.
The FBCCI press release said India wants to further enhance trade and investment relations with Bangladesh in the areas of logistics, food processing, automobiles and garments.
FBCCI President Md. Jasim Uddin said development of logistics sector is the main goal of FBCCI. He said the FBCCI is working to submit a 12-year plan to the government for development in the sector.
The High Commissioner said Indian companies are doing well in Bangladesh. Therefore, the investment of other Indian entrepreneurs in Bangladesh has a huge potential to be profitable.
During the meeting, FBCCI President Jasim Uddin suggested developing infrastructure in the Indian part of the land ports to boost bilateral trade. He said many products could not be exported from Bangladesh due to lack of facilities in Indian ports. Bilateral trade is being hampered due to that.