Finance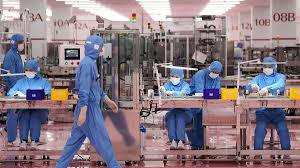 File Picture
Bangladesh now shifting towards Japanese investments from China
Own Correspondent, Dhaka, 17 February 2021: The Japanese government is giving special incentives to Japanese companies to bring manufacturing plants from China to Bangladesh.
Through this, the tide of foreign investment is expected to come in the economy of Bangladesh. This was stated in a report of the influential US media Bloomberg on Tuesday.
Naoki Ito, Japan's ambassador to Bangladesh, said in an interview that with the onset of the global epidemic in China, it became imperative for Japanese companies to diversify their supply systems. This is a good opportunity for Bangladesh.
Japan is encouraging companies to relocate their factories at a time when a special economic zone is being created in Bangladesh to attract companies from that country. This industrial area is being developed on one thousand acres of land in Araihazar Upazila (Narayanganj), only 32 km away from the capital Dhaka. The Bangladesh Economic Zone Authority expects 20 billion in Japanese investment.
On the one hand, infrastructure has been developed in countries like Vietnam-Bangladesh, on the other hand, wage expenditure has increased in China. For this reason, Japanese manufacturers have been trying for years to move some businesses out of China to diversify their low-wage and supply systems.
According to Naoki Ito, the number of Japanese companies operating in Bangladesh has tripled in the last 10 years to nearly 300.
He said Japan has allocated ৩ 350 million as a special loan to build a1 billion industrial zone in Bangladesh. The Japanese Ambassador to Bangladesh also said that there has never been such a big cooperation in the whole of Asia in creating a special economic zone.
According to Ito, Japanese carmakers such as Suzuki Motor and Mitsubishi Corporation may re-invest in the 2,500-strong industrial park to be opened in 2022. Companies like Japan Tobacco and Honda Motor are currently among the largest Japanese investors in Bangladesh.
According to Bloomberg, Bangladesh occupies a strategically important geographical position in the communication between South and Southeast Asia. The construction of the two-billion-dollar Matarbari deep-sea port here is part of the Japanese geopolitical strategy.
Despite the coronavirus epidemic, Bangladesh's economy grew by 5.2 percent in the fiscal year ended June, and is expected to grow by 7.4 percent in the current fiscal year.
According to Naoki Ito, Bangladesh, located between India and the Bay of Bengal, has the potential to be a 'good and strong' destination for Japanese companies. Bangladesh is also recovering faster than its neighbors.