Finance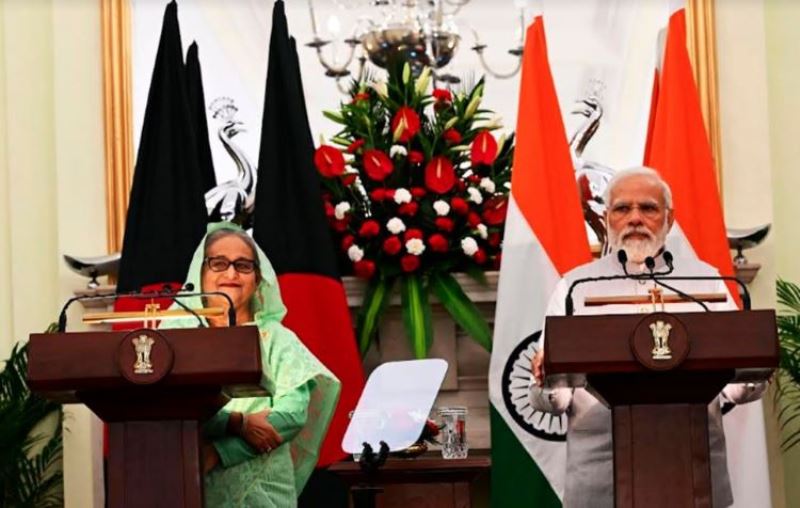 Photo: PID
Bangladesh receives India's offer of free transit facility for exporting goods to a third country
Own Correspondent, New Delhi, Sept 8: Prime Minister Sheikh Hasina and her Indian counterpart Narendra Modi have reiterated their firm commitment to further strengthen bilateral ties and India has offered Bangladesh free transit for exports of goods to a third country.
"India has offered free transit facility for exports of goods from Bangladesh to third countries through special land customs stations/airports/sea ports through its territory," a joint statement issued in New Delhi on Wednesday said.
In this regard, the Indian side invited the business community of Bangladesh to use the port infrastructure for transshipment to a third country.
Bangladesh has requested rail connectivity with Bhutan through the newly inaugurated Chilahati-Haldibari route and India has agreed to consider its request on the basis of viability and feasibility, the statement said, noting that India is providing free transit to Bangladesh for the export of goods to Nepal and Bhutan.
To make this and other cross-border rail links operational, India has requested Bangladesh to lift port restrictions at the Chilahati-Haldibari crossing, the joint statement said.
The two leaders agreed to accelerate efforts to improve bilateral and sub-regional connectivity through the speedy implementation of the BBIN Motor Vehicle Agreement.
India has requested Bangladesh's cooperation in launching a new sub-regional connectivity project, including a highway — from Hili in West Bengal through Bangladesh to Mahendraganj in Meghalaya — and proposed a detailed project report in this regard. In the same spirit, Bangladesh has reiterated its interest to be a partner in the ongoing India-Myanmar-Thailand Trilateral Highway Project.
The Prime Ministers of Bangladesh and India welcomed the recent finalization of a joint feasibility study. The study recommended that a Comprehensive Economic Partnership Agreement would be beneficial for both countries. They directed the trade officials of both countries to start negotiations by 2022 and expedite them in time for Bangladesh's transition from LDC status.