Finance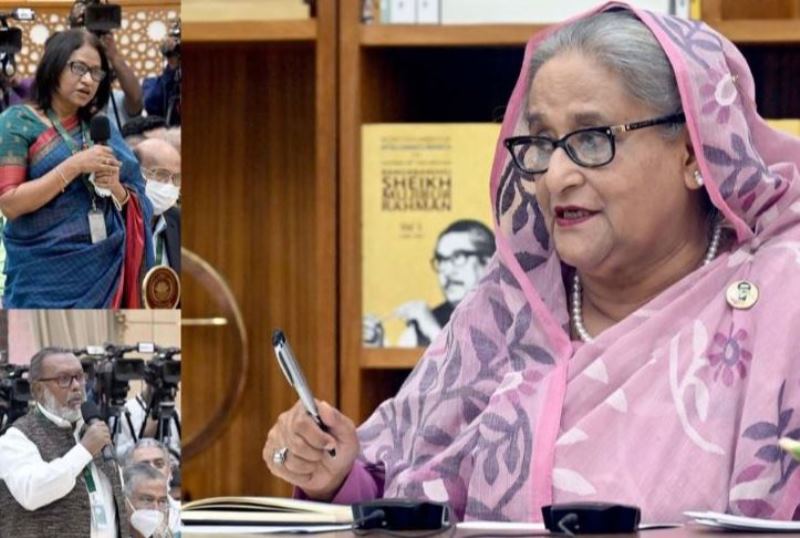 Photo: PID
Bangladesh's economy in a very strong position: PM
Own Correspondent, Dhaka, Oct 7: Prime Minister Sheikh Hasina has assured the countrymen that there is nothing to worry about as Bangladesh's economy is in a very strong position.
She said, "Bangladesh's economy, considering the medium and long term, is not in any danger. I can assure you all that there is nothing to worry about."
The Prime Minister gave this assurance at a press conference held at Ganabhaban on Thursday afternoon on the occasion of her recently concluded visit to the United Kingdom and the United States.
Stating that the government has deployed all its forces to revive the economy by facing all the challenges, she said, they have focused on reducing any kind of suffering of the people.
"There is nothing to worry about," she said. "If we all think that this is our country and we all have to move the country forward together."
Sheikh Hasina said that there is no 'risk' in the way her government is managing Bangladesh's economy by setting short-term, medium-term, and long-term goals.
"Moreover, we have nothing to worry about our foreign exchange reserves. Because in 1996, when the government was formed, we started the journey with only 1 billion US dollars in reserve. At that time, electricity was 1300 megawatts, food shortage was 4 million metric tonnes. And the literacy rate was only 45 percent," she said.
The PM said, "I can promise that there is no risk in Bangladesh in any case."
The Prime Minister said that it is true that Awami League could not come to power in 2001 due to domestic-foreign conspiracy due to the non-provision of gas sales to foreign countries, but if it had done so, it would not have been possible to continue electricity transmission even with some load shedding, the country would have been plunged into darkness.
Sheikh Hasina said that there is no problem in terms of our budget and we are implementing those types of projects first which can get returns if completed quickly. And while taking the project, we are taking the kind of projects which will be profitable for the country.
Her government has opened up the private sector, where various projects are also being implemented. She urged the project concerned and the public to be aware of this.
At that time, she expressed her anger against the pouring criticism of various newspapers and media of the country and said, "No matter how much good we do, it is never good in their eyes, they should suffer from a kind of hypocrisy. However, we pay special attention to the extent to which the people have benefited from our work."