Finance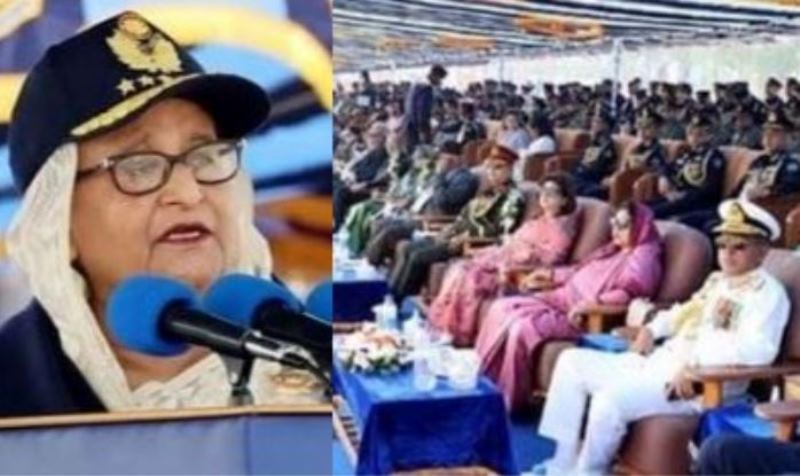 Photo: PID
Bangladesh's economy is dynamic and secure: PM
Own Correspondent, Dhaka, Nov 25: Prime Minister Sheikh Hasina said that the government is alert enough to overcome the recession situation created globally due to the sanctions-reciprocal sanctions in the wake of the Corona pandemic and the subsequent Russia-Ukraine war.
She said, "We are alert to overcome the recession. Our economy is still dynamic, and safe."
She said these while attending a parade at the Bangladesh Air Force (BAF) Academy in Jessore on Thursday (November 24).
The Prime Minister said that Father of the Nation Bangabandhu Sheikh Mujibur Rahman took charge of a war-torn country after independence. In a country where there was no reserve money, no currency notes, roads, and bridges were all destroyed. Moreover, he was quick to raise a province, to raise it to a state, and to establish every institution suitable to it. By rehabilitating and reconstructing the war-torn country, he was taking the country forward on the path of economic liberation. Just then, Bangabandhu was killed by the merciless bullet of the assassin.
Sheikh Hasina said, "A war-torn country, we had nothing. Still, the Father of the Nation Bangabandhu Sheikh Mujibur Rahman built the Air Force with the cooperation of friendly countries. The Air Force has a special contribution to our great liberation war. I respect those who gave their lives. It is our misfortune that after the assassination of the Father of the Nation, there have been repeated coups in the country, and around 600 officers and soldiers of the Air Force have been killed. From 1975 to 1996 many events happened. After coming to the government, I took measures to rebuild the air force. First, bought MiG-29. Rebuilt the Air Force. Coming to the government for the second time in 2009, we have taken various steps including the addition of F-7 BGI fighter jets to modernize the Air Force and increase its operational capabilities. The Air Force is now very smart and efficient. Our Air Force is playing an excellent role in peacekeeping missions. We are proud of that."
Organizations and forces will be technologically savvy, and we have taken measures accordingly.
Sheikh Hasina said, "Today people from other countries are taking training in our country. For example officers from Nepal, Palestine, Zambia have come here. Let me tell the new officers that our government has always given importance to the development and modernization of the Air Force by providing skills and training facilities. Working that way."