Finance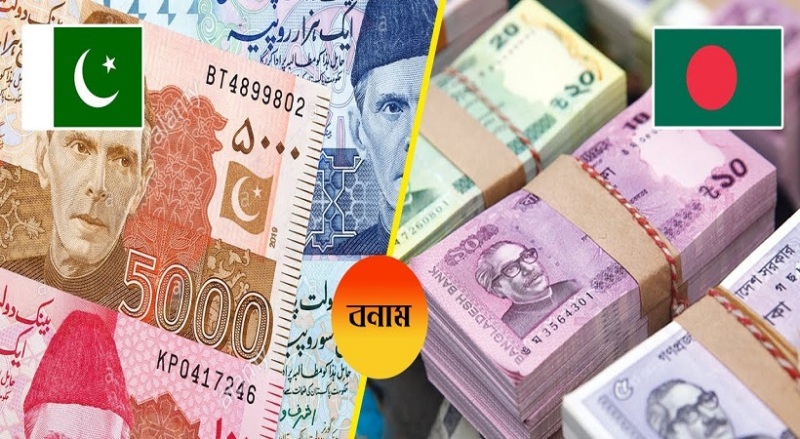 Collected
Bangladesh Taka gains, doubles over Pakistani Rupee
Bangladesh has gained independence from Pakistan after 9 months of bloody great liberation war. This time Bangladesh also left Pakistan far behind in terms of currency. The value of the currency has more than doubled over the Pakistani rupee.
Different countries of the world now consider Bangladesh as idol. The heads of government of Pakistan themselves have evaluated Bangladesh as an idol at different times. From the country under which Bangladesh became independent, now Bangladesh is often praising various progress from that country.
Immediately after independence, 165 taka of Bangladesh was equal to 100 rupees of Pakistan. In the 50 years of independence, the picture is quite different. The value of Bangladeshi currency has more than doubled compared to the country.
On September 22 last year, the value of the rupee was almost double that of the Pakistani rupee. That is, one taka is equal to two Pakistani rupees (1.98 paise). And on Thursday (May 12), according to the Currency Exchange (XE), Bangladesh's one taka is equal to Pakistan's 2.20 rupees (2.197).
2008 was originally considered the year of the fall in Pakistan's rupee exchange rate. Due to rising inflation that year, the rupee depreciated from 61 to 79 against the dollar. In December 2015, Pakistan had to spend 104 to 105 rupees against one dollar, in December 2017, one dollar was equal to 109 rupees. And on Thursday (May 11), according to the Currency Exchange (XE), one dollar is equal to 190.79 Pakistani rupees.