Finance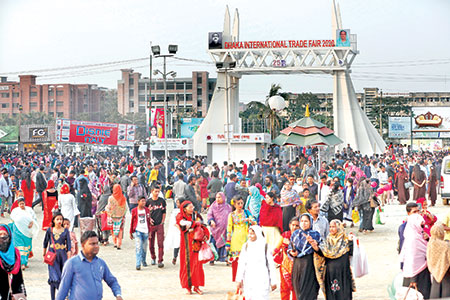 File Picture
Bangladesh: Trade fair won't start from March 17
Dhaka: Preparations have been made to start the 26th edition of the Dhaka International Trade Fair from March 16 at the China-Bangladesh Friendship Exhibition Center in Purbachal, but it is not happening yet.
Commerce Minister Tipu Munshi said this while handing over the exhibition center at the Secretariat on Sunday.

"We are preparing for the fair this year," he said. Our preparations were in progress on March 17. We initially received an agreement in this regard. But because of the Corona situation, our Prime Minister has said to slow it down a bit. I hope we will be able to hold the fair at some point this year. ' Later, the Dhaka International Trade Fairs will start on January 1. "

China State Construction Engineering Corporation started construction of fair infrastructure on 20 acres of land in Sector 4, Purbachal on 16 October 2016. They announced to complete the construction work on November 30 last year.

The Commerce Minister said that in future there will be fairs, various product exhibitions and sourcing programs throughout the year. Besides, China will exhibit its products twice a year.

According to the ministry, the construction of the permanent infrastructure for trade fairs and exhibitions has cost Tk 63 crore, of which the Chinese government has provided Tk 520 crore as grant. The government of Bangladesh has spent Tk 231 crore and EPB's own funds of Tk 21 crore 26 lakh for this project.