Finance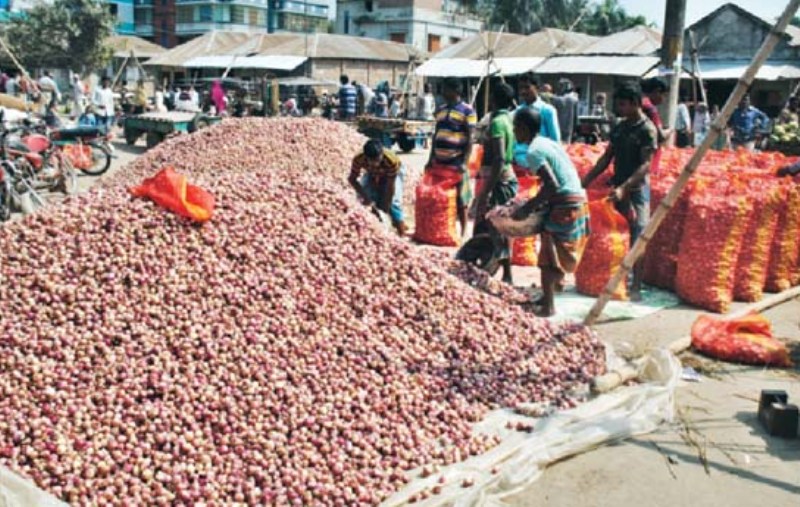 File Picture
Bangladesh will be self-sufficient in onion production within four years
Dhaka, November 26: Bangladesh wants to be self-sufficient in onion production within the next four years. A roadmap is being prepared for this. If this is implemented, it will be possible to meet the demand of onion through domestic production. This information has been received from the Ministry of Agriculture and the Department of Agricultural Extension (DAE).
The production of onion in the country is less than the demand. For this reason a large part of the demand is met through imports.
Onion imports are mainly dependent on India. Bangladesh's onion market became volatile when India stopped exporting. In this context, the Minister of Agriculture.
Speaking as the chief guest at the Central Research Review and Programmaking Workshop at the Bangladesh Agricultural Research Institute on October 14, Abdur Razzak directed to adopt a specific action plan to increase onion production.
The Department of Agricultural Extension then drafted a roadmap for achieving self-sufficiency in onion production. The first draft is for a period of three years. When it is presented, the Ministry of Agriculture sits down with the concerned and instructs the DAE to revise it. According to him, DAE formulated a four-year roadmap. The roadmap was presented at a meeting at the Ministry of Agriculture on November 23.
Director General of the Department of Agricultural Extension (DG) Md. Asadullah said, 'In the next four years we will be self-sufficient in onions inshaAllah. We will increase the production of onions, while at the same time reducing the loss of onions in terms of management and storage. As part of the roadmap, various strategies will be taken to bring self-sufficiency in onions. We will also train farmers on onion conservation. Onion storage system will be introduced in hi-tech system.
According to the roadmap, a plan will be taken to increase the onion yield by 2 lakh tonnes this time, he said. I have set targets. If all goes well, the production of onion will be 1 million tons more than now after 4 years.
According to the Sarejamin Wing of the Department of Agricultural Extension and Bangladesh Bank, the amount of land under onion cultivation in the country is 237,000 hectares at present. The total onion production in these lands is 25 lakh 66 thousand tons. Among the onions produced, Robi is 81.56 per cent, Murikata is 18.19 per cent and summer onion is 0.11 per cent. The average yield per hectare is 10.82 tons.