Finance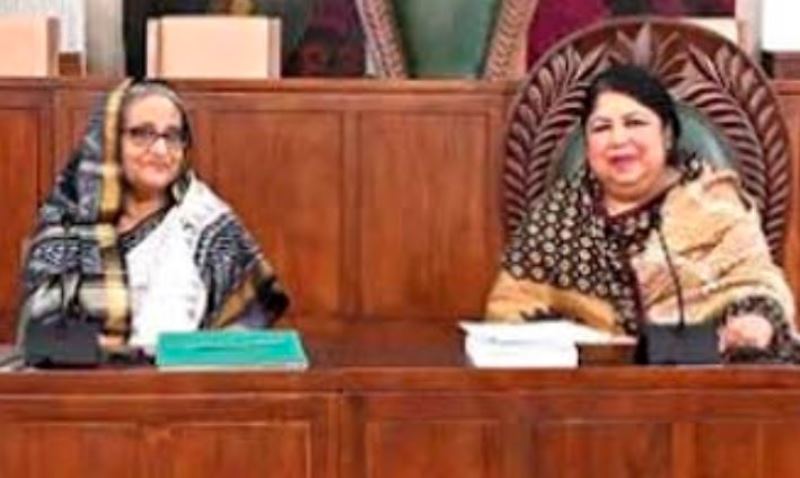 Photo: PID
Budget for 2023-24 fiscal year to be passed on June 26
Dhaka, June 1: The Finance Bill and the budget for the fiscal year 2023-24 will be passed on June 25 and June 26 respectively.
This decision was taken in the 11th meeting of the working advisory committee of the 11th National Parliament on Wednesday at the Jatiya Sangsad Bhawan. The meeting was held under the chairmanship of the Speaker of the Jatiya Sangsad Dr. Shirin Sharmin Chowdhury MP.
Committee member and Parliament Leader and Prime Minister Sheikh Hasina MP participated in the meeting. Besides, the members of the committee are opposition leader Begum Roshan Ershad MP, Amir Hossain Amu MP, Tofail Ahmed MP, Sheikh Fazlul Karim Salim MP, Obaidul Quader MP, Rashed Khan Menon MP, Hasanul Haque Inu MP, Deputy Speaker Md Shamsul Haque Tuku MP, Anisul. Haque MP, Golam Mohammad Quader MP, Anisul Islam Mahmud MP and Chief Whip Noor-e-Alam Chowdhury participated in the MP meeting.
In the meeting, the 23rd and 2023 budget sessions of the 11th National Parliament were discussed about the time allocation and the duration of the session. It was decided in the meeting that the session will be held every day except Friday and Saturday at 5 PM and June 1 at 3 PM. It was decided that the budget for the financial year 2023-24 will be presented in the National Parliament on June 1. A total of 40 hours of general discussion on the budget will be held from June 4 to June 24, 2023. It was decided that the money bill would be passed on June 25 and the budget would be passed on June 26. After that, the meeting decided to adjourn the Parliament session for Eid-ul-Azha and resume the session on July 2. After a week, the 23rd session of the 11th National Assembly will end with consideration of the bill passing. The speaker is empowered to make any changes regarding the time and working days of the session including this matter.
A total of 1,640 questions including 86 questions for the Prime Minister and 1,554 questions for other ministers were received in this session, 32 attention notices were received under Rule-71. No bill notices have been received from private members. The number of previously pending private bills is 8. Of the 22 government bills, 11 are under examination in committee, 4 are awaiting passage and 7 are awaiting introduction in the session.