Finance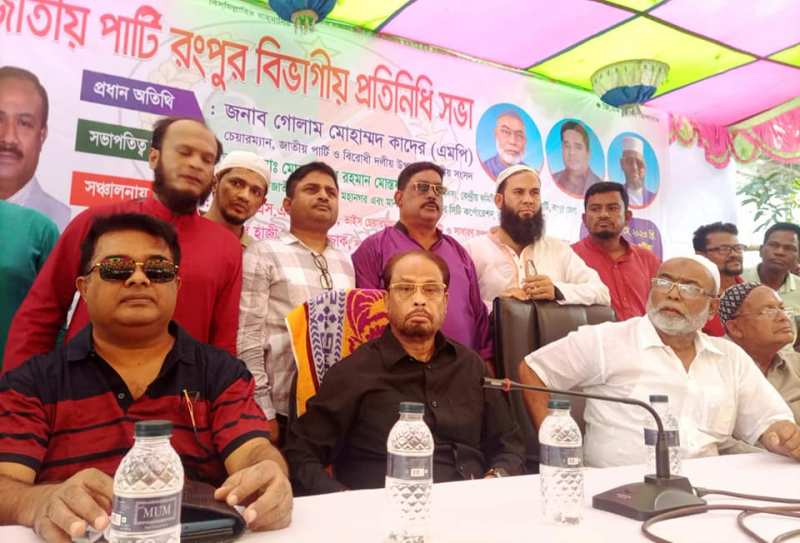 www.facebook.com/GmQuaderBD
Budget FY 2024 is unrealistic: GM Quader
Dhaka, June 1: Jatiya Party Chairman GM Quader termed the proposed budget for the fiscal year 2023-24 as unrealistic and election-oriented, saying it lacked vision to alleviate the suffering of the people due to the rise in the prices of daily necessities.
He said that the election-oriented budget has been prepared keeping in mind the upcoming elections. We do not think this is a realistic budget. We also think that this budget will not be effective.
Obaidul Quader, Deputy Leader of Opposition in Jatiya Sangsad, made this comment in an immediate reaction to reporters about the party's position on the budget outside the Sangsad Bhawan.
He said that when the entire world is in the grip of economic recession and the people of Bangladesh are going through severe crisis, the government has increased the revenue target, although it could not achieve the target of the last fiscal year. I don't think the government will be able to collect such a large amount of revenue.
The Jatiya Party chief said that the budget mainly depends on borrowing from domestic and foreign sources. He said, 'In the current economic situation, the government is less likely to get loans from local and external sources when it is willing. So finally the budget will not be implemented.
He said the government imposed direct tax on some goods and indirect tax on all goods used by common man and middle class.
Obaidul Quader said, considering the upward trend of commodity prices and the decrease in people's income, there are no visible people-friendly initiatives in the budget. He said that there is no provision in the budget to ensure the survival and welfare of the poor and low income people. So we cannot call it a people-friendly budget. It is not a public budget.
He also opposed increasing the government's operating expenditure as his party felt that it could be reduced by practicing austerity amid the economic crisis.
Obaidul Quader expressed fear that the government may take advantage by increasing the operating expenses during the election year. I think overcoming electoral hurdles with people's money can be a policy.