Finance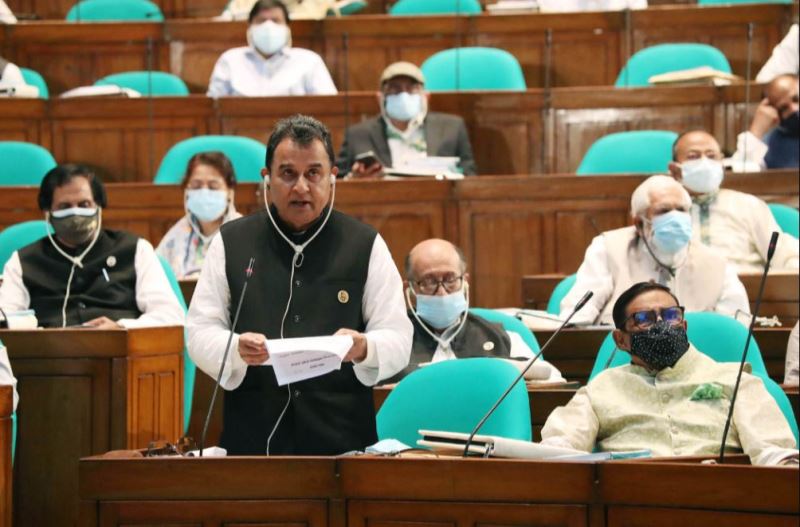 PID
Budget of Tk 6,03,681 crore largest in Bangladesh's history
Dhaka, June 3: Finance Minister AHM Mustafa Kamal has presented the largest budget- FY 2021-2022- in the history of Bangladesh in the National Assembly. The size of this year's budget is Tk 6,03,681 crore.
Prime Minister Sheikh Hasina was present in Parliament at the time. Speaker Dr. Shirin Shamin Chowdhury presided over the budget session.
The total revenue from the proposed budget is Tk 3,92,490 crore. Deficit is Tk 2,14,681 crore. The total development expenditure is Tk 2,37,078 crore.
Of this, the size of the Annual Development Program (ADP) has been estimated at Tk 2,25,324 crore. The total non-development expenditure is Tk 3,61,500 crore.
The finance minister began his budget speech after the parliamentary session began at 3pm on Thursday (June 3). Earlier, the cabinet approved a budget of Tk 6,03,681 crore.
Prime Minister Sheikh Hasina presided over the meeting held at Jatiya Sangsad Bhaban. After approving the budget at the meeting, Finance Minister AHM Mustafa Kamal entered the session with Prime Minister Sheikh Hasina. After the sitting of the parliament, the finance minister started his budget speech.
This is the second budget amidst the coronavirus pandemic and the third budget of the third term of the Awami League government and Finance Minister Mustafa Kamal. This is the 50th budget of the country and the 22nd budget of the Awami League government since independence.
This budget session is being held in strict compliance with the health minister in the pandemic situation. The general discussion of the MPs on the proposed budget will start from June 6.
Sources said the budget session will be shortened due to the pandemic. The proposed budget for the next financial year will be passed on June 30.