Finance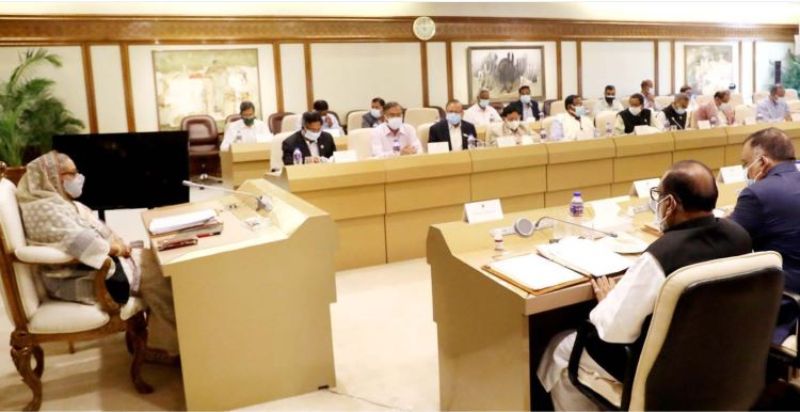 PID
Cabinet clears draft of Universal Pension Management Act, 2022
Dhaka, June 20: The cabinet of Monday cleared the draft of the Universal Pension Management Act, 2022.
The draft law was presented to the finance department at a cabinet meeting chaired by Prime Minister Sheikh Hasina and approved. The meeting was held at the Prime Minister's Office.
Cabinet Secretary Khandaker Anwarul Islam said this at a press briefing at the Secretariat after the meeting. He said that according to the draft law, everyone between the ages of 18 and 50 can participate on the basis of National Identity Card (NID). Expatriate workers can also take part in it by contributing. In this case you have to pay premium for at least 10 years.
He said the person would get a pension as long as he/she lived for 60 years. The amount of premium will be determined by rules. If someone dies while on pension, the heirs will get pension till the age of 75.
Earlier, while presenting the budget for the fiscal year 2022-2023 in the parliament on June 9, Finance Minister AHM Mustafa Kamal said that the government will introduce universal pension in the next (2022-23) fiscal year.
The Cabinet Secretary said that the citizens will get pension benefit if they submit this premium from the age of 18 to 60 years. Pensioners (18-60 years) will get lifetime pension. However, special consideration will be given to the elderly persons above 50 years of age. To get pension you have to pay regular subscription for at least 10 years.
The cabinet secretary said the government has introduced legislation from the finance department to bring the growing elderly population in a pension and well-organized social security zone as a result of unemployment, malaise, disability, aging due to old age and increase in life expectancy of the people.
The cabinet secretary said all Bangladeshi citizens between the ages of 18 and 60 can participate in the pension scheme on the basis of national identity card.
"Bangladeshis working abroad can also participate in this pension if they register their names and pay premium," the Cabinet Secretary said.
Khandaker Anwarul Islam said that the person who pays premium from 18 to 60 years will have the one type of payment, the one who pays up to 40 years will have another type of payment. Premium can have multiple layers. The higher the premium, the higher the pension.
If any of the pensioners dies at the age of 60, their nominee will get pension benefits, said the cabinet secretary.
The four-member National Pension Authority will be headed by a chairman and a 15-member board of directors will be headed by the finance minister, the cabinet secretary said.