Finance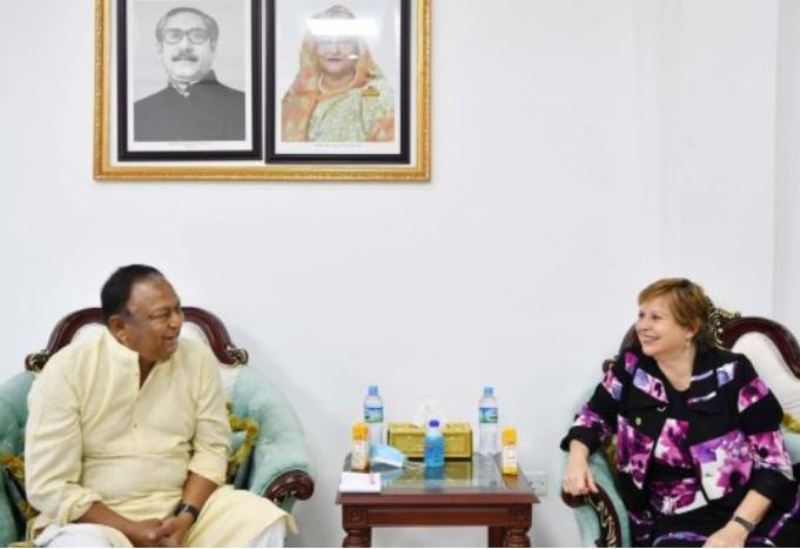 Photo: PID
Canada offers to import edible canola oil
Own Correspondent, Dhaka, May 12: The High Commissioner of Canada to Bangladesh, Dr. Lilly Nicholls, during a meeting with Commerce Minister Tipu Munshi, proposed to import edible canola oil from that country.
In this context, the Commerce Minister said, Bangladesh imports a huge amount of edible oil every year. So Canadian-produced edible canola oil has the potential to become popular in Bangladesh. He called upon Canada to set up a factory to produce canola edible oil in the economic zone of Bangladesh.
During the meeting held in the office room of the Commerce Minister at the Secretariat on Wednesday, Tipu Munshi further said that Bangladesh's trade and economic relations with Canada are long-standing. Bangladesh wants to take advantage of the opportunity to increase bilateral trade and investment.
He told the Canadian High Commissioner that 100 economic zones are being set up in Bangladesh. There are various opportunities for foreign investment. Taking advantage of this opportunity, Canada will benefit from investing in Bangladesh.
Dr. Lilly Nicholls, High Commissioner of Canada, proposed import of edible canola oil and said that Canadian canola oil could be exported to Bangladesh. Bangladesh can import canola oil through TCB at government level. She said her government would extend all possible cooperation in this regard.
She added that Canada is keen to increase trade and investment with Bangladesh. She lauded Bangladesh's ready-made garments, saying traders from both the countries could increase trade and investment by visiting each other's countries. She also praised the ongoing development of Bangladesh.
Commerce Minister Tipu Munshi said Bangladesh is now making garments in an advanced and modern way. The US Green Building Council has awarded Lead Green Factory Certificates to 157 factories around the world, nine of the top 10 being Bangladeshi.
He said workers are now working in a safe and work-friendly environment in Bangladesh. The rights of the workers have been ensured by amending the labor laws. He said Bangladesh produces a huge amount of potatoes, which have the potential to be exported. Bangladesh will benefit if Canada assists in research to ensure proper use of agricultural products.