Finance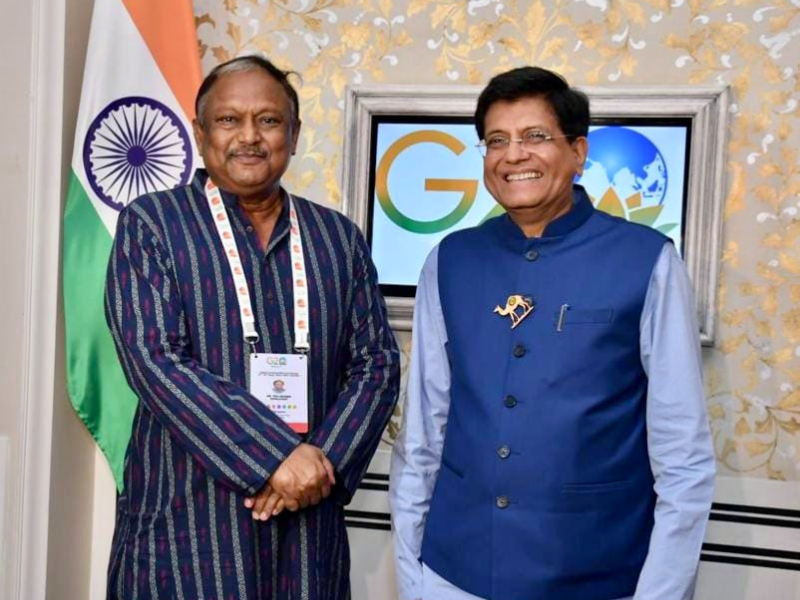 Photo: Collected
Commerce Min calls for speedy implementation of process of daily commodities' supply to India
Dhaka, August 26: Commerce Minister Tipu Munshi has urged the Indian government to speed up the implementation of the proposed process to supply essential goods from India to Bangladesh. He made this call to the country in a bilateral meeting with Indian Commerce Minister Piyush Goyal on the sidelines ahead of the G-20 Trade and Investment Ministers' meeting held in Jaipur, India on Friday.
Tipu Munshi thanked the Indian Commerce Minister for the progress made in devising a mechanism for the supply of essential commodities from India to Bangladesh and sought his support for the speedy implementation of the proposed mechanism.
When Tipu Munshi drew the attention of India's Commerce Minister that the recent imposition of 40 percent export duty on onion had adversely affected onion prices in Bangladesh, Piyush Goyal said that India will work with Bangladesh to overcome the difficulties caused by global production disruptions, supply shortages and rising prices of the commodity. committed to India is also suffering from shortfall in agricultural production due to adverse weather conditions and food inflation. Due to this the Government of India had to take some decisions. He assured Bangladesh that they will be able to overcome this crisis very soon.
In the meeting, when the Commerce Minister requested the Government of India to withdraw the anti-dumping duty on jute products of Bangladesh, Piyush Goyal assured the utmost consideration in this regard. He also emphasized on presenting and resolving other bilateral issues in the joint working group meeting within the next two months.
Appreciating Bangladesh's valuable contribution in finalizing the G-20 Ministerial Declaration, India's Commerce Minister said India always values the special friendship and partnership with Bangladesh.
The Commerce Minister of Bangladesh congratulated India for the Presidency of G20 and expressed gratitude for inviting Bangladesh as a guest country to participate in the Economic Cooperation Forum.
Tipu Munshi also held a bilateral meeting with Saudi Arabia's Commerce Minister ME Majid Al Kasabi. Meanwhile, both ministers expressed hope that the upcoming meeting between Prime Minister Sheikh Hasina and the Crown Prince of Saudi Arabia and the Prime Minister on the sidelines of the G-20 conference to be held in Delhi will be fruitful.
Later, Commerce Minister Tipu Munshi attended the meeting of G-20 Trade and Investment Ministers. Addressing the meeting, he called upon the G20 members to support countries on the graduation track, including Bangladesh, in continuing the duty-free quota free market facility applicable to LDC countries after 2026. The minister requested the ministers of the G20 countries to take a decision on behalf of the LDC transition countries in the upcoming 13th Ministerial Conference of the World Trade Organization.