Finance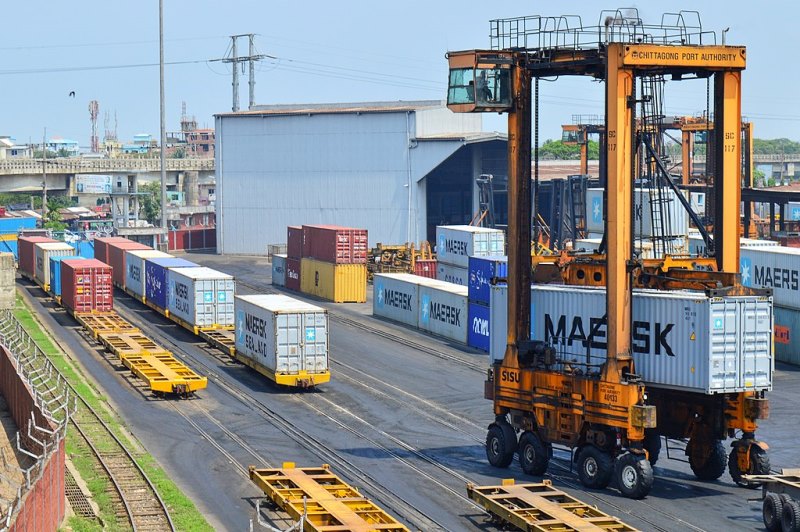 Moheen Reeyad/Wikipedia
Containers from Chittagong port being moved to ICD to resolve congestion
Dhaka, July 26: Most of the country's industries are closed due to the ongoing lockdown (restrictions) announced by the government. As a result, the process of unloading imported containers at Chittagong port has slowed down at an alarming rate. As a result, the number of containers in the port is increasing. The Chittagong Port Authority has started various activities to resolve the congestion. Various business associations were pressured to expedite the release of goods as well as high-level guidance from the government for alternative measures.
Finally, on Sunday (July 25), the National Board of Revenue (NBR) issued an office order allowing the transfer of containers at the Chittagong port to 19 inland container depots (ICDs). The order will be cancelled automatically after August 31.
The office order, signed by Mehraj-ul-Alam Samrat, Second Secretary (Customs Policy) of the Board of Revenue, said that in the light of the recommendation of the Ministry of Shipping to resolve the container congestion at Chittagong Port in the Covid-19 situation, all containers arriving at the port are subject to two conditions. Permission was granted to store and unstack 19 located offdocks (private ICDs) and to clear those offdocks.
According to port sources, the process of unloading imported goods from the ship goes on for 24 hours. In contrast, importers are unloading containers at the rate of one-fourth of normal. One hundred and twenty-eight TEUs (20 feet long containers) were unloaded from the port on Eid day on July 22, 582 TEUs on July 23, 1,010 TEUs on July 24 and 1,900 TEUs on July 25. In other words, 3,620 TEU containers have been unloaded from the port in four days. But in normal time, the importers unload an average of three and a half thousand TEU containers from Chittagong port in a day.
As a result, containers started accumulating inside the port. As of July 25, 43,574 TEUs have been deposited in the port. Although the capacity of the port is 49,000 TEUs, however, 30 percent space has to be left vacant for the operational work of the port.
The authorities started various activities to solve the slow down in the unloading of containers at the port and to resolve the possible congestion. Last Saturday, Rear Admiral M Shahjahan, chairman of the port, handed over a letter to the secretary of the shipping ministry. On the same day, a letter signed by Chittagong Port Secretary Omar Farooq was sent to BGMEA, Bangladesh Shipping Agents Association, Bangladesh Freight Forwarders Association, BKMEA and Chittagong Chamber of Commerce.