Finance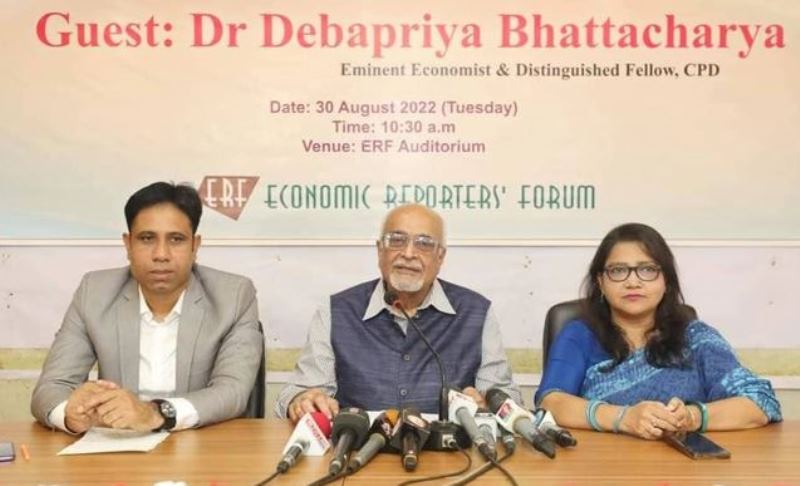 Photo: Collected
Country's economy is not in crisis, it is under pressure: Economist Debapriya Bhattacharya
Own Correspondent, Dhaka, August 31: Dr. Debapriya Bhattacharya, Honorary Fellow and Economist of the private research organization Center for Policy Dialogue (CPD), said that the country's economy is not in crisis, but it is under pressure.
He said that the current instability in the macro economy will not end soon. This unstable situation will remain till FY 2023-24. Those who say that the crisis will end soon, are trying to reassure through quick political thinking. This creates instability and a lack of confidence in the market.
Debapriya Bhattacharya said these things at the 'ERF Dialogue' organized by the Economic Reporters Forum (ERF) on Tuesday (August 30).
The dialogue held at the ERF office in Purana Paltan of the capital was presided over by the president of the organization Sharmin Rinvi. ERF General Secretary SM Rashidul Islam conducted the event.
Debapriya Bhattacharya said that there are four types of deviations in the country's economy, non-investment in the private sector, weak tax collection, lack of necessary investment in the education and health sectors, and inequality in social protection programs are the main deviations of the economy. If these deviations are not properly dealt with then it will not be possible to reach the transition stage. At the same time, there are doubts about whether the achievements will be sustainable or not.
He said, Bangladesh also has achievements. There are also deviations. This deviation can undermine achievement. May reduce durability. However, Bangladesh has come to this situation after overcoming many problems. Hopefully, the problem will be overcome in the future.
Debapriya Bhattacharya also said that the economic situation is currently going through a complex and in crisis. It was said earlier that such a situation can happen in the country and in the world. It was also mentioned that short-term stabilization programs are necessary to deal with such crises. That is why many people have suggested adopting monetary and foreign exchange policies to control inflation by controlling the GDP ambition. The situation in foreign trade, investment, exchange rate, and inflation will not end soon.