Finance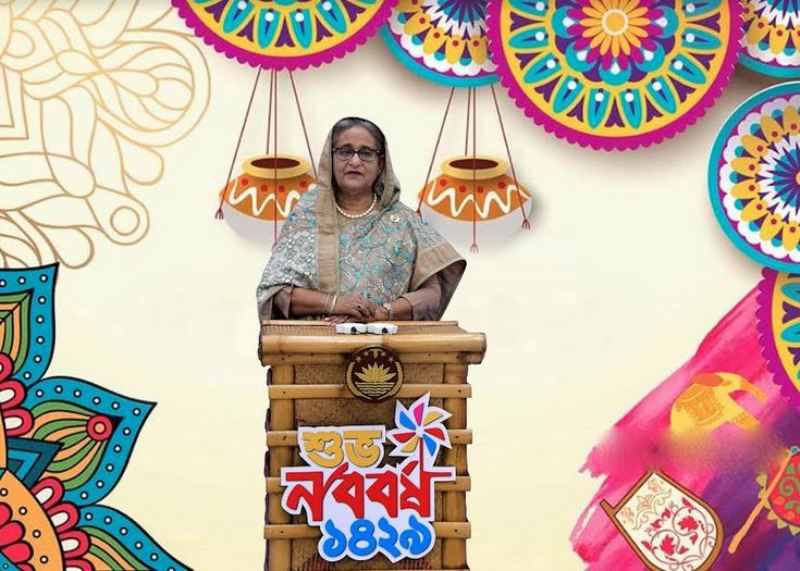 Photo: PID
Country's economy will change once mega projects are completed: Sheikh Hasina
Own Correspondent, Dhaka, April 14: Addressing the nation on the occasion of Pahela Boishakh of the Bengali New Year, Prime Minister Sheikh Hasina said, "Once the mega projects are completed, the face of the country's economy will change."
She said, "The Padma Setu (bridge) is being built with the country's own funds, no loan has been taken. We have undertaken the rest of the mega projects by conducting economic survey by local and foreign experts. Many mega projects have been taken up not only on loan basis but also through foreign partnerships, projects are being implemented."
Speaking to the nation on Wednesday evening on state-run BTV and Betar as well as other private media outlets, she said her government had taken domestic and foreign loans to implement the projects. "However, we are careful not to let the debts become a burden. Our main goal is to accelerate economic activity, create employment, increase wealth and make people's lives easier through infrastructure development."
The Prime Minister said 2022 and 2023 will be a milestone year for Bangladesh in terms of infrastructure development. Because, the much awaited Padma Setu is going to be inaugurated in a few months. The bridge is expected to contribute 1.2 percent to GDP.
Mentioning that by the end of this year, metrorail will be launched in 14 km section from Uttara to Agargaon, the Prime Minister said, "It is expected that metrorail will bring a revolutionary change in the transport system of the capital Dhaka. The country's first tunnel underneath Karnafuli river will be opened in Chittagong next October."
She said, "The first unit with a capacity of 1,200 MW at Rooppur Nuclear Power Plant, the largest development project in the history of the country at a cost of Rs 1.13 lakh crore, is expected to be commissioned by the end of next year. Last month, a state-of-the-art 1,320-megawatt power plant at Payra was inaugurated before schedule. The implementation of other mega projects is progressing fast."
Wishing everyone a Happy New Year, Sheikh Hasina reaffirmed her commitment to build a happy and prosperous golden Bangladesh of Bangabandhu's dream at the auspicious moment of Bengali new year 1429.