Finance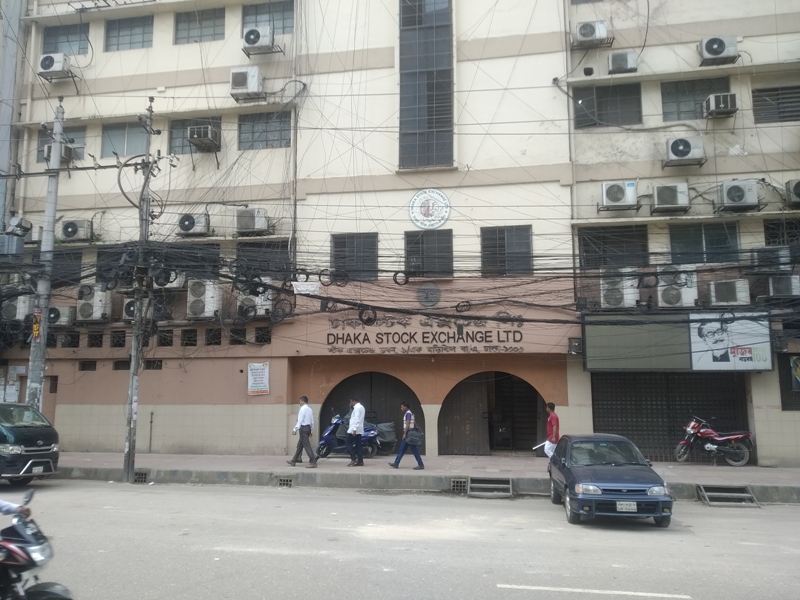 Ifteebd10/Wikipedia
Dhaka Stock Exchange experiences the sharpest decline in 2023
Dhaka, June 6: The Dhaka Stock Exchange (DSE) witnessed its biggest fall of the year after the rise of the last two months.
DSE's broad-based index DSEX fell 40.1 points or 0.6 percent to 6,316 points.
The index fell by 9.84 points on the previous day as well. The decline was the biggest for the major equity benchmark since November 20 last year, when it fell 9.84%.
Market transactions fell by 13.5 percent to Tk 1,868.88 lakh, which was the previous day's seven-month high of Tk 1,256.68 lakh.
The DS30 index, including blue-chip business, decreased by 9.47 points to 2,188 points and the DSES index decreased by 10 points to 1,372 points.
On the DSE floor, 157 declined, 25 rose and 182 remained unchanged.
Regarding this decline, market participants say that this sudden recession has occurred due to several reasons.
Stockbrokers blamed political and economic uncertainty ahead of national elections in six months.
Additionally, macroeconomic factors have increased caution among investors.
Inflation hit an 11-year high of 9.94% in May, while some investors preferred to book profits in anticipation of tougher times ahead due to the ongoing energy crisis.
Moreover, there are no new incentives in the proposed budget and there is no discussion on the stock market, which has left stakeholders disappointed.
In recent weeks, the market experienced several rallies and corrections and this morning's session initially seemed to be following the same pattern.
Although the market showed initial positive momentum on Tuesday, indices failed to sustain their gains after the mid-session due to heavy selling pressure on major sector stocks.
The market initially showed positive momentum, but indices failed to hold their gains after mid-session due to heavy selling pressure in key sector stocks.
A wave of desperate sellers pushed the DSEX down after 1pm.
Large-cap stocks such as LafargeHolcim, Sea Pearl Beach Resorts, BSRM Steels, Navana Pharma and Unique Hotels & Resorts accounted for most of the e-market decline.
Mid-cap stocks topped the turnover list, with Associated Oxygen changing hands at Rs 52.9 crore, followed by Intraco Refueling Station, Meghna Life Insurance and RD Foods.
In Chittagong Stock Exchange (CSE), the All Price Index (CASPI) fell 109 points to 18,667 points and the Selective Categories Index (CSCX) fell 65 points to 11,169 points.