Finance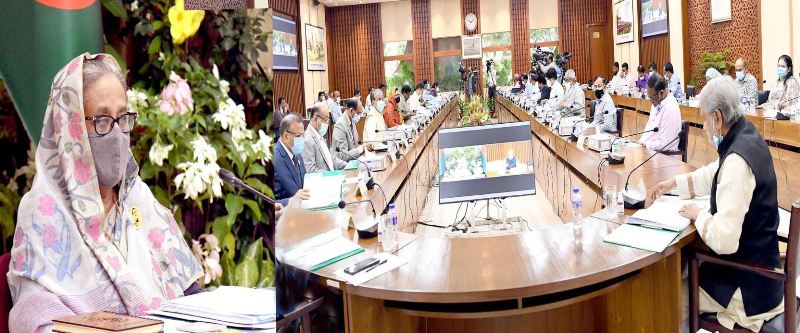 PID
ECNEC approves 9 projects including construction of Khulna-Mongla Port Railway
Dhaka, October 6: The Executive Committee of the National Economic Council (ECNEC) has approved nine projects at a cost of Tk 6,551.27 crore, including the construction of the Khulna-Mongla Port Railway. Of these, four are new projects and five are revised projects.
The three projects will be funded by the government at a cost of Tk 3,742.29 crore, the company's own loan of Tk 26.22 crore and foreign loan of Tk 2,782.76 crore.
The meeting began at 10:00 am on Tuesday (October 5) at the NEC conference room in Sher-e-Bangla Nagar, chaired by Prime Minister Sheikh Hasina. The Prime Minister joined the meeting via video conference from Ganobhaban. On the other hand, concerned ministers and secretaries were present in the NEC conference room.
After the ECNEC meeting, Planning Minister MA Mannan and State Minister for Planning Dr Shamsul Alam gave details of the projects at a press conference.
The projects approved by ECNEC are: -
Sayedabad Water Treatment Plant (Phase-3) (first revised);
Improvement of agro-meteorological information system (first revised);
Establishment of Kushtia Medical College and Hospital, Kushtia (second revised);
Establishment of two Agricultural Training Institutes (ATIs) at Jagannathpur and Mohanganj Upazilas;
Upgradation of Tangail-Delduar-Lauhati-Saturia-Kawalipara-Kalampur bus stand road to proper standard and width of regional highway;
Conservation of river banks, re-excavation of small rivers, canals and beels and removal of waterlogging in Pirganj upazila of Rangpur district;
Protection of right and left banks of Kirtinasha river in Shariatpur district; Barapukuria-Bogra-Kaliakair 400 KV line (first revised);
Construction of railway from Khulna to Mongla Port (second revised).