Finance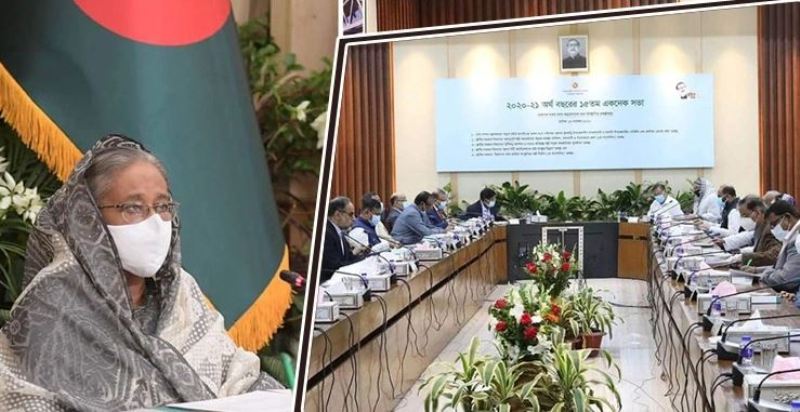 Collected
ECNEC increases time, cost of infrastructure development in Barisal-Jhalokati-Pirojpur
Dhaka, November 18: The cost of rural infrastructure development in Barisal, Jhalokati and Pirojpur districts has increased by Tk 305 crore. The time has also increased by one year. The meeting of the Executive Committee of the National Economic Council (ECNEC) chaired by Chairperson Sheikh Hasina on Tuesday (November 18th) approved the additional cost and time.
According to Planning Commission sources, ECNEC has approved the first amendment of the project titled 'Important Rural Infrastructure Development Project: Barisal, Jhalokati and Pirojpur Districts'.
The original cost of the project was Tk 950 crore. With an increase of Tk 305 crore, the new project cost stood at Tk 1,255 crore.
The project was to be implemented between November 2018 and June 2022. From there, the term has been extended by one year till June 2023.
The project is being implemented by the Department of Local Government Engineering (LGED) at the initiative of the Department of Local Government / Local Government, Rural Development and Cooperatives.
Implementing agencies and enterprising ministries / departments have stated that the remaining part of the road will be completed to establish uninterrupted road communication network in the project area.
Some important roads will be included. The list of schemes will be rearranged considering the priority of the schemes under the project and the overall benefits of the road connection system.
The cost of remaining work on the project will be determined as per LGED's updated rate schedule (2019). The project needs one more year till 2023 for its smooth completion. The operating cost of the project, including salaries and allowances, has increased.
Agailjhara, Gournadi, Wazirpur, Banaripara, Babuganj, Muladi, Hijla, Mehendiganj, Bakerganj and Sadar of Barisal; The project is being implemented in Rajapur, Kanthalia, Sadar and Nalchiti of Jhalokati and Sadar, Nazirpur, Nesharabad, Bhandaria, Kaukhali, Indurkani and Mathbaria upazilas of Pirojpur.
The main objective of the project is to accelerate the agricultural and non-agricultural economy through rural road development in these three districts, improve the living standards of rural people by increasing the transportation facilities of villages, markets, health centers, educational institutions and other service providers and create employment in short and long term.