Finance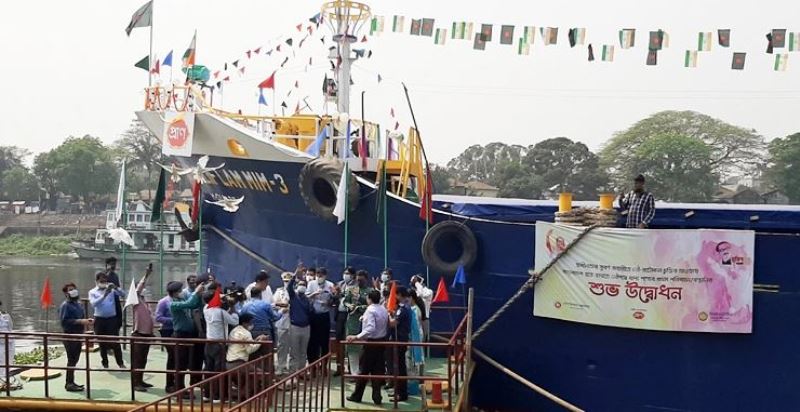 Collected
First shipment of food products by sea to India through Pran Group
As the first consignment of food items on the golden jubilee of Bangladesh's independence, a cargo ship has left for India with 25,000 cartons of lychee drinks of Pran Group.
The ship left Pran Industrial Park at Palash in Narsingdi around 12 noon on Tuesday (March 18). It will reach the TT Shed at Kolkata Port directly. State Minister for Shipping Khalid Mahmud Chowdhury inaugurated the program. Pran currently exports more than 150 products to India. Notable products include fruit drinks, chips, snacks, biscuits, candy, sauces, ketchup, noodles, sauces, jellies and spices.
The cargo ship started its journey from Shitalakshya in Narsingdi at 1 pm. The ship will enter India via Narayanganj, Sheikhbaria in Khulna and reach Kolkata port. It will take 3-4 days for the ship to reach its destination after covering a distance of 610 km.
Concerned officials said the cost of transporting goods by water is 30 percent less than by road. There is a risk of product spoilage or product quality loss due to poor road conditions in many places. But the waterway is safe in this case. Transporting goods by truck requires multiple loading and unloading. This has the potential to degrade the quality of the product. But the quality of the goods is good in the transportation of goods by water.
Exporters think that it takes a lot of trucks to send goods by road, which exporters have to get a lot of speed to arrange. Besides, truck fares also fluctuate at different times. This increases the cost. But many goods can be sent together in one barge by water. If there is any infrastructural problem in the river, solving it and exporting goods in this way will undoubtedly increase the country's exports and both the countries will benefit through it.
Pran Group officials said that Pran Group's export activities to neighboring India started in 1997. Then Pran Chanachur went to the neighboring state of Tripura. From there, life products are now being exported to each of the 26 states of India. Pran Group's products go to Assam, West Bengal, Uttar Pradesh, Bihar, Tripura, Gujarat, Punjab, Tamil Nadu and Kerala in India.
They said India, a country of 1.3 billion people, has a huge market for life products. Being a neighboring country, India has a lot in common with Bangladeshis on various issues including weather, people's eating habits and easy communication system, so the country has the opportunity to make Bangladeshi food better. There is a huge demand for processed food products produced in Bangladesh, especially in the seven states known as the Seven Sisters of West Bengal and India.