Finance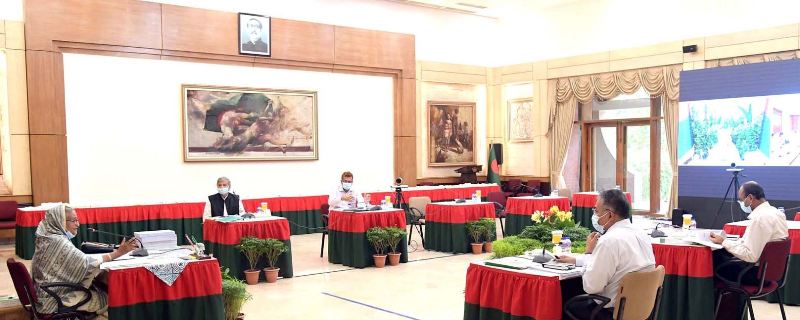 File Picture
Four ECNEC approved projects to cost TK1,659 crore
Dhaka, 6 October: The Executive Committee of the National Economic Council (ECNEC) has approved four projects at a cost of Tk1,659.34 crore.
Of this, the government will provide Tk 740.14 crore and foreign grant of Tk 919.20 crore. The projects were approved on Tuesday (October 6) under the chairmanship of Prime Minister and ECNEC Chairperson Sheikh Hasina.
Prime Minister Hasina, Planning Minister MA Mannan and concerned ministers-secretaries took part in the ECNEC meeting via video conference.
At the end of the meeting, the planning minister presented the details to the journalists. According to him, today's ECNEC has approved three revised projects.
Among them is the Ministry of Education's 'National Poet Kazi Nazrul Islam University's Physical Infrastructure Development (First Amendment)' project. The cost of the project has been increased in the amendment. The timing remains the same. In the amendment, the expenditure has been increased from 491 crore 34 lakhs to 840 crore 56 lakhs. The project will be implemented from January 2018 to June 2023.
The second amendment has been brought in the project of the Ministry of Water Resources 'Rehabilitation of Polder No-62 (Patenga), Polder No-63 /1B (Anwara and Patia) of Chittagong District Coastal Area'. The cost and time have been increased. Expenditure increased from 280 crore 30 lakhs to 320 crore 29 lakhs in the first amendment and today after the amendment it increased further to 577 crore 23 lakhs.
The duration of the project, which started in May 2017, has been extended from June 2020 to June 2022.
The first amendment to the Local Government Department's 'Multi-Sector' project to address the Rohingya crisis on an emergency basis has been introduced.
The cost and time of this project has also increased. Expenditure has been increased from Tk 1,057.84 crore to Tk 1,987.84 crore.
The project, which started in December 2018, was supposed to be completed in November 2021, but now it will be completed by June 2024.
The ECNEC meeting approved a new project of the Ministry of Industries titled 'Creating Self-Employment and Poverty Alleviation (Phase-II) by expanding BITAC activities with emphasis on women in handicraft technical training' '.
It will cost 123 crore 18 lakh rupees. The project will be implemented from July 2020 to June 2025.