Finance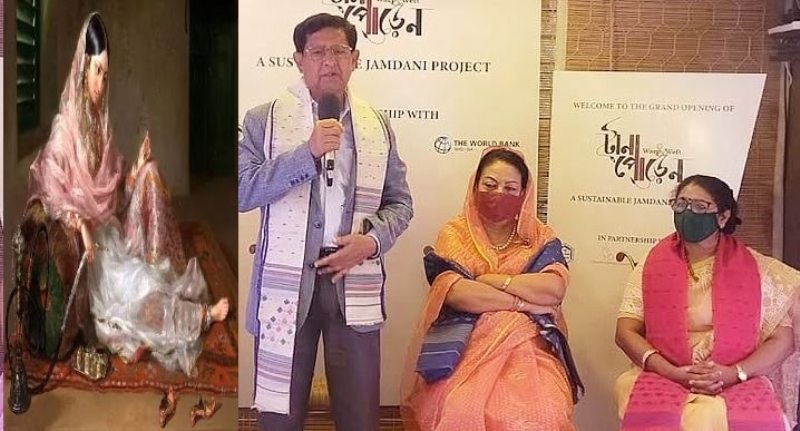 Collected
Government to make Muslin sari affordable
Dhaka, July 5: Emphasis will be laid on commercial production to bring the traditional Dhaka muslin sari within the purchasing power of the common man. Textile and Jute Minister Golam Dastagir Ghazi said that to make a muslin sari, one has to make yarn first, then weave it. It takes five-six months to make a medium quality muslin sari. As a result, the price of sarees is beyond the reach of the common man. "We are trying to bring muslin to the masses through commercial production," he said.
He was speaking at the inauguration of the Jamdani Exhibition Center 'Tanaporan' in the capital's Gulshan on Monday (July 4th) with the direct participation of weavers. The Minister said that at one time Dhaka Muslin made in the country was appreciated all over the world. For various reasons, the glorious Dhaka Muslin was lost about 170 years ago. But on the instructions of the Prime Minister, a project was taken up in 2018 with the aim of restoring Dhaka muslin.
He said the Bangladesh Weaving Board, along with experts, has unveiled the technology for making muslin sari, including the discovery of cotton varieties for making muslin yarn and making 700-1000 counts of yarn with cotton. In order to spread this technology among the common weavers of the country, we have set up 'Dhaka Muslin House' in Tarabo Municipality. The Padma Bridge was inaugurated on June 25. The bridge will increase investment in the economy as well as the country's growth rate. The Ministry of Textiles and Jute wants to create new employment opportunities in 21 districts of the south-western region of the country through industrialization around the Padma Bridge.
The minister said work is underway to set up a "Sheikh Hasina Weaving Village" on 120 acres of land in Shibchar upazila of Madaripur at the Jajira end of the Padma Bridge. Under the project, weavers will be given all kinds of facilities starting from weaving cloth. There will be residential buildings, weaving sheds, dormitories, rest houses, cyber cafes and power substations for weavers.
He said there are plans to set up a weaving market two days a week in Tantpalli. All kinds of raw materials including yarn will be sold and displayed at the market. There will be everything from weaving cloth to making and selling clothes.