Finance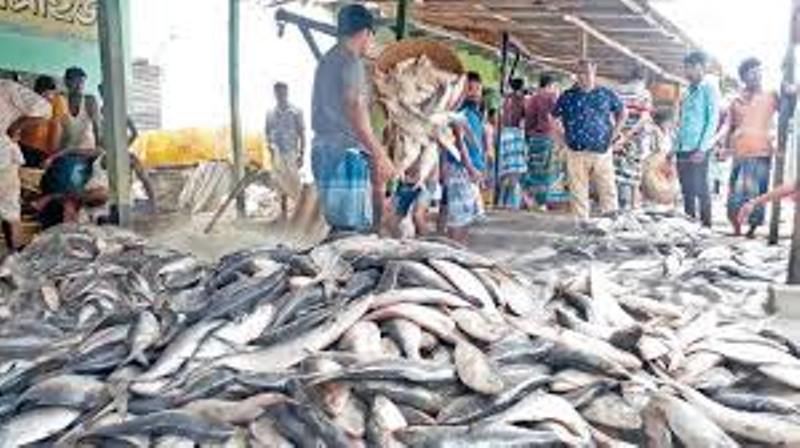 File Picture
Hilsa production has doubled in the last five years
Dhaka, 10 October: Hilsa production has almost doubled in the last five years in Bangladesh. According to reports, 306,000 metric tons of hilsa was caught in the country in the financial year 2014-15, in 2018-19 it increased to 533,000 metric tons.
Fisheries officials say that the production of hilsa has been steadily increasing due to the cessation of catching in hilsa sanctuaries and the cessation of netting mother hilsa during the prohibited period.
To protect the mother hilsa, the government has marked the breeding season and banned the hunting, extraction, marketing, sale and transportation of hilsa for 22 days.
Ten years ago, in the financial year 2008-09, the amount of hilsa produced in the country was 2.98 lakh metric tons.
Hilsa production is continuously increasing after various steps.
From 14th October to 4th November this year, all kinds of fishing, including hilsa, will be stopped for 22 days.
Masud Ara Momy, assistant director of the hilsa management branch of the fisheries department, said the procurement, marketing, transportation, purchase, sale, exchange and storage of hilsa would also be banned across the country.
He said the government would launch a stimulus campaign to raise awareness among fishermen on the issue. In addition to taking administrative steps to prevent mother hilsa from being caught during the prohibited period, the fishermen will also be mentally involved in the campaign in the coastal areas, so that the fishermen themselves will spontaneously refrain from fishing during the prohibited period.
Masud Ara said, "Our 10 teams are starting work to stop selling in the market."
Asked what action would be taken for the jobless fishermen, he said, "There is no doubt that the fishermen will have to suffer a lot as they will not be able to catch hilsa for these 22 days." For this purpose, the allocation has been given to 5 lakh 26 thousand 342 fisher families in 152 upazilas of 36 districts at the rate of 20 kg before the start of the main breeding season for hilsa.
This season, food aid is being provided to an additional 1 lakh 20 thousand 263 fishing families as compared to last season.