Finance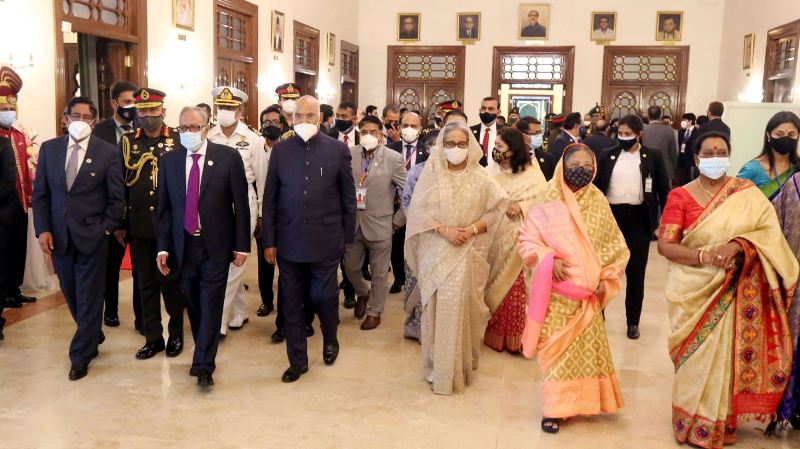 PID
Indian President Kovind meets President Hamid; Bangladesh-India keen to enhance trade relations
Dhaka, December 16: Visiting President of India Ram Nath Kovind has expressed interest in enhancing the existing trade and business relations with Bangladesh through joint efforts. He said this during a courtesy call on the President of Bangladesh Md. Abdul Hamid at Bangabhaban on Wednesday evening.
The 14th Indian President Kovind is on a three-day visit to Bangladesh to attend the Golden Jubilee celebrations of Bangladesh's independence. The President of India assured the full cooperation of Indians in ongoing business investment and various development projects in the days to come.
Later, Press Secretary to the President Md. Joynal Abedin informed the official news agency BSS about the outcome of the meeting. Calling the President of Bangladesh a hero of war, the Indian President said that Bangladesh has achieved tremendous success in combating the deadly Covid-19 outbreak and "we are also proud of it."
The President of India and First Lady of India Mrs. Sabita Kovind and their daughter Swathi Kovind arrived at Bangabhaban at 6:25 pm.
The President of Bangladesh welcomed his Indian counterpart with a bouquet of flowers and Rashida Hamid also presented another bouquet of flowers to the Indian First Lady. Later, the two heads of state met at the credential hall of Bangabhaban.
During the meeting, the two presidents emphasized on enhancing trade and business ties between the two countries through joint ventures, the press secretary said. He described the visit of the President of India as memorable for Bangladesh.
After the meeting, the Indian President presented to the President of Bangladesh two replicas of Russian T-55 tanks and MiG-21 vintage warplanes used during the war of liberation in 1971. Later, Ramnath Kovind signed the inspection book of Bangabhaban.
On the sidelines of the President's ceremony, First Lady of India Mrs. Sabita Kovind paid a courtesy call on the President's wife Rashida Khanam at Bangabhaban. They inquired about each other and wished good health.
Prime Minister Sheikh Hasina also attended the dinner hosted by the President of India. The Prime Minister's younger sister Sheikh Rehana, Speaker of the Jatiya Sangsad Dr Shirin Sharmin Chowdhury, Chief Justice Syed Mahmud Hossain along with some cabinet members and senior government officials also attended the dinner.
They also enjoyed a cultural program served by the artists of Bangladesh Shilpakala Academy.