Finance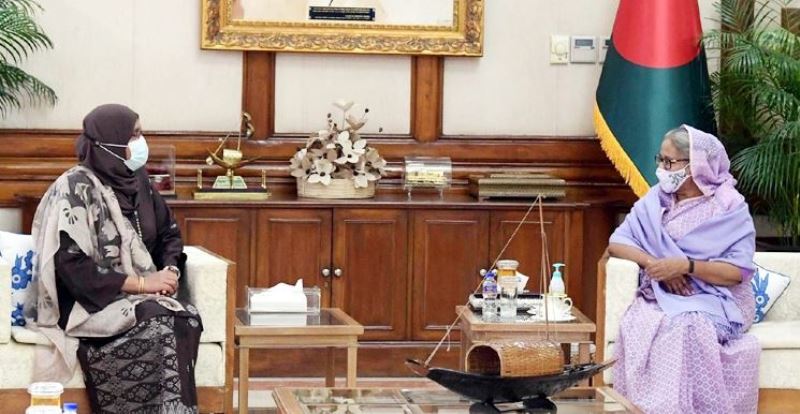 Collected
Malaysia keen to export LNG to Bangladesh
Dhaka, February 8: Malaysia is interested in exporting LNG to Bangladesh. Malaysian High Commissioner to Bangladesh Haznah Mohammad Hashim expressed this interest during a courtesy call on Prime Minister Sheikh Hasina at Ganobhaban on Sunday (February 7).
Assistant Press Secretary to the Prime Minister MM Imrul Kayes briefed the media.
During the meeting, the Malaysian Ambassador said that her country is interested in exporting LNG to Bangladesh. At the time, Prime Minister Sheikh Hasina mentioned the demand for LNG in Bangladesh, including special economic zones.
The High Commissioner also expressed Malaysia's interest in working with Bangladesh in the education and shipbuilding industries. The Malaysian High Commissioner hoped that the Preferential Trade Agreement (PTA) between the two countries would be possible.
She said Malaysia will always stand by Bangladesh on the Rohingya issue. At that time, the Prime Minister mentioned that Rohingyas were going to Bhasanchar from Cox's Bazar voluntarily.
On the occasion of the golden jubilee of independence and the birth centenary of Bangabandhu, the Prime Minister said the government is working relentlessly to provide houses for every landless and homeless people in the Mujib year.
Meanwhile, Prime Minister Sheikh Hasina has called on Norway to invest heavily in Bangladesh's special economic zones. At this time, he highlighted the various opportunities, including investment-friendly environment and regional market facilities in Bangladesh.
The Prime Minister said the geographical location of Bangladesh is very important. If you invest in Bangladesh, there is an opportunity to enter the markets of Asia and South Asia.
She said this when Norwegian Ambassador to Bangladesh Espen Rikter-Svendsen paid a courtesy call on the Prime Minister at Ganobhaban on Sunday.
During the meeting, the Prime Minister called upon the Norwegian investors to bring large investments in various sectors including information technology and environment-friendly jute in the economic zones of Bangladesh.
The Prime Minister recalled Norway's cooperation in the reconstruction of Bangladesh after the War of Liberation and independence. She also informed the Norwegian ambassador that the nationwide vaccination of Covid-19 is underway.
Ambassador Espen Rikter-Svendsen said that Norway was one of the first countries to recognize Bangladesh after the war of independence. Highlighting Norway's cooperative relations with Bangladesh since independence, the ambassador said Norway is one of Bangladesh's largest development partners.