Finance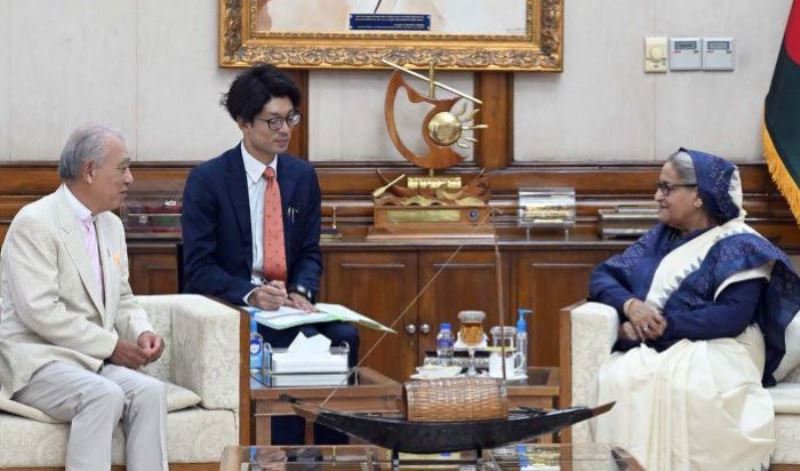 Photo: PID
Many Japanese companies interested in investing in Bangladesh
Dhaka, Sept 6: A delegation of Japan said that many Japanese companies are interested in investing in Bangladesh. In response, Prime Minister Sheikh Hasina said, if Japan wants, they will be allotted more space in the Bangladesh Export Processing Zone (EPZ) for setting up industries.
She said, Bangladesh has given space to Japan in EPZs, if Japan wants to set up industries, we can give them more (space).
A five-member Japanese parliamentary delegation led by Yusuke Nakanishi paid a courtesy call on the Prime Minister at Ganabhaban on Tuesday, September 5. After the meeting, Prime Minister's Press Secretary Ihsanul Karim informed the journalists about this information.
The delegation felt that the existing development partnership between Japan and Bangladesh should be furthered and strengthened. Mentioning that Japan is working on various mega projects including metro rail, the delegation members said, "Japan is contributing to the infrastructure development, especially the mega projects of Bangladesh." They praised the launch of direct flights between Dhaka and Narita and said that it will improve communication.
During the meeting, the Japanese delegation also emphasized the need to keep the Indian Ocean peaceful for trade and commerce. They lauded Bangladesh's success in women's empowerment and education. In response, the Prime Minister said, "Our girls study in more educational institutions than boys. We are giving free education to girls." At this time, Sheikh Hasina wants Japan's help in building a marine aquarium in the country.
Earlier, Nippon Foundation Chairman Yohei Sasakawa paid a courtesy call on the Prime Minister at Ganabhaban. During the meeting, Sasakawa told the Prime Minister that the Nippon Foundation will give three million US dollars to help the Rohingya in Bhasanchar.
Regarding the Rohingyas, the Prime Minister said, they should go back to their own country, Myanmar. Myanmar is our neighboring country. We are keeping in touch with them. Their citizens (Rohingya) must go back to their country.
Yohei Sasakawa, 84, survived World War II with his mother. More than 100,000 people died in that terrible war. He appreciated the efforts of Bangladesh in eradicating leprosy and rehabilitating those affected by the disease. Yohei Sasakawa also highlighted the friendly relations between Bangladesh and Japan. The Chairman of Nippon Foundation invited the Prime Minister to attend the National Leprosy Conference held in Dhaka in October this year.
Chief Secretary to the Prime Minister Md. Tofazzal Hossain Mia, Foreign Secretary (Senior Secretary) Masud Bin Momen and Ambassador of Bangladesh to Japan Iwama Kiminori were present at this time.