Finance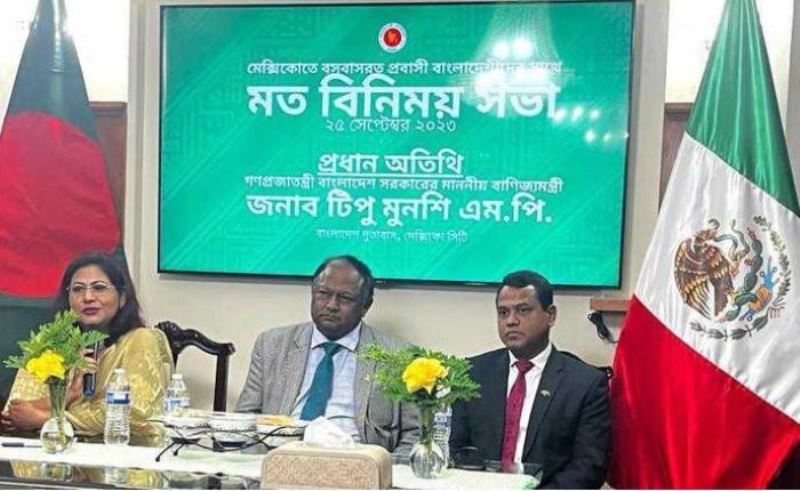 Photo: Collected
Mexico wants to export halal meat to Bangladesh
Mexico City, Sept 29: Apart from the export of halal meat to Bangladesh, the businessmen of Mexico emphasized on increasing the communication between the businessmen for the expansion of business and trade between the two countries. They expressed this interest in a seminar jointly organized by Bangladesh Embassy and Ibero Americana University in Mexico City on Thursday.
Commerce Minister Tipu Munshi was the chief guest on the occasion. Abdur Rahim Khan, Additional Secretary of the Ministry of Commerce, Sergio Le Lopez, President of the Asia and Oceania Division of the Mexican Business Council for Foreign Trade, Investment and Technology, Misael Daniel Reyes, Director of the Import-Export Organization of Mexico, Nathan Wolf Lastbeder, Director General of the Department of International Relations of Mexico, etc. were present there.
In the speech of the chief guest at the seminar, Commerce Minister Tipu Munshi called for increasing the communication between the businessmen of the two countries for the expansion of trade and commerce between Bangladesh and Mexico.
Referring to the implementation of various mega projects going on in Bangladesh, the commerce minister said that under the leadership of Prime Minister Sheikh Hasina, there has been unprecedented development in all sectors including communication system, health, education and technology. Under the leadership of Sheikh Hasina, Bangladesh has already transformed from a Least Developed Country (LDC) to a Developing Country.
Tipu Munshi also highlighted the economic progress and stability of Bangladesh despite global economic challenges such as the Russia-Ukraine conflict after the Corona crisis.
Meanwhile, Mexican businessmen and representatives of various organizations expressed their interest in exporting halal meat to Bangladesh. Besides, he emphasized on strengthening bilateral relations. They also talked about increasing the connectivity between businessmen to expand trade and economic activities between the two countries.
Director General of Mexico's Department of International Relations Nathan Wolf Lastbeder expressed interest in strengthening relations with Bangladesh. He urged the businessmen of both the countries to emphasize the diversification of markets in terms of trade.
Additional Secretary, Ministry of Commerce, Abdur Rahim Khan discussed the favorable trade landscape of Bangladesh. He invited the country's business leaders and policy makers to explore opportunities in one hundred special economic zones such as agriculture, medicine, ICT, sports, education and culture.