Finance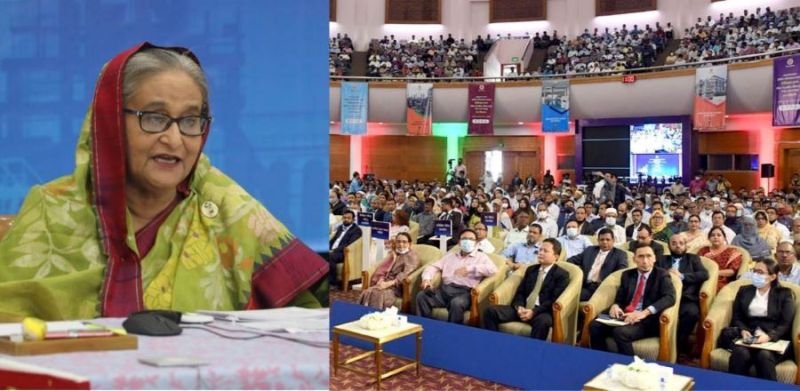 PID
More than 8 lakh jobs have been created in industrial sector: PM Hasina
Dhaka, April 21: Prime Minister Sheikh Hasina has said that at present the amount invested in the industrial city is Tk 41,217 crore and more than eight lakh people have been employed. She was speaking at the groundbreaking ceremony of Ghorashal Palash Urea Fertilizer Factory and inauguration of four projects of the Ministry of Industries on Thursday (April 21).
From Ganobhaban, the Prime Minister virtually joined the function at the Bangabandhu International Conference Center in the capital.
"As a result of our government's policies and programs, the contribution of the industrial sector to the GDP is about 35 percent at present," she said. "Eco-friendly industries are expanding across the country and women's participation is being strengthened. In this, Bangladesh is ahead of the neighboring countries in many indicators of socio-economic progress including poverty alleviation and job creation. In the meantime, we have been able to transition from a least developed country to a developing country."
Stating that Bangladesh is exporting 766 products abroad, Prime Minister Sheikh Hasina said, "People of the country have trusted us in all elections since 2008 and have been supporting us. I am grateful to the people. As a result of their support, today's trend of development has continued. We are working for the people."
The head of government emphasized on building environment-friendly industries. "I am giving utmost importance to the environment while building each factory," she said. "Protecting the environment and the environment is important to us."
Highlighting the development of the present government in the industry, she said, "In 2014, we took initiative to set up a new eco-friendly 'Ghorashal Palash Urea Fertilizer Factory' in place of two old urea fertilizer factories at Ghorashal and Palash. The factory will produce 2,800 metric tons of urea fertilizer daily (about 1 million metric tons annually). I am grateful to the Japanese and Chinese governments for providing loan assistance for the project."
Prime Minister Sheikh Hasina further said that Sheikh Mujib established the Bangladesh Small and Cottage Industries Corporation in 1957. "To strengthen BSIC, today we are inaugurating the construction of a multi-storey building of BSIC in Tejgaon and an expanded BSIC industrial city in Madaripur."