Finance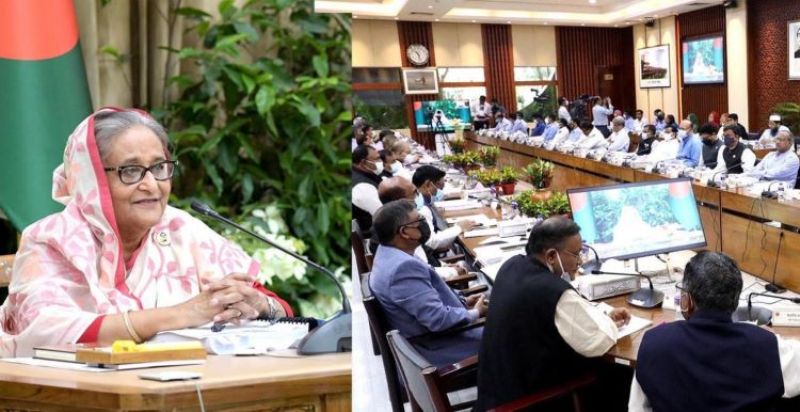 Photo: PID
NEC approves Tk 2.46 lakh crore development budget for Annual Development Programme
Own Correspondent, Dhaka, May 18: The National Economic Council (NEC) on Tuesday approved 2.46 lakh crore development budget for The Annual Development Programme (ADP) for the financial year 2022-23, prioritizing maximum allocation in the transport and communications sector as well as ensuring optimal utilization by preventing misuse of government funds. Of this total amount, Tk 1.53 lakh crore will come from local sources and Tk 93,000 crore from overseas.
NEC Chairperson and Prime Minister Sheikh Hasina presided over the virtual meeting from her official residence Ganobhaban. Ministers, State Ministers, members of the Planning Commission and concerned secretaries attended the meeting from the NEC conference room in Sher-e-Bangla Nagar area of the city and the conference room of the Cabinet Division of the Bangladesh Secretariat.
After the meeting, Planning Minister MA Mannan told reporters that the main ADP for the next financial year will be Tk 2.46 lakh crore, of which Tk 1.53 lakh crore will be financed from the government's own funds and the remaining Tk 93,000 crore will be available as project assistance from overseas. Besides, in the next financial year, the autonomous body or corporation will have its own allocation of Tk 9,937 crore 17 lakh for the projects. As a result, the total size of next year's ADB will be Tk 2,56,003.27 crore.
In the current 2021-22 financial year, the size of the original ADP was Tk 2,25,324.14 crore, which was later reduced to Tk 2,07,550 crore. Therefore, the ADB of the next financial year is about 9.21 percent more than the main ADB of the current financial year and 18.56 percent more in terms of allocation.
The new ADP has 1,435 projects, of which 1,244 are investment projects, 106 are technical assistance projects and 85 are projects of autonomous organizations or corporations.
Referring to some of the directives given by the Prime Minister at the NEC meeting, the Planning Minister said the Prime Minister has advised all concerned in the government, including the private sector, to be strict in preventing waste in utilization of utilities like water and electricity.
"The Prime Minister said that we must maintain strictness and not abuse anything. Although we are on the right track, we must be careful. We are confident of maintaining the current momentum of growth," he said.