Finance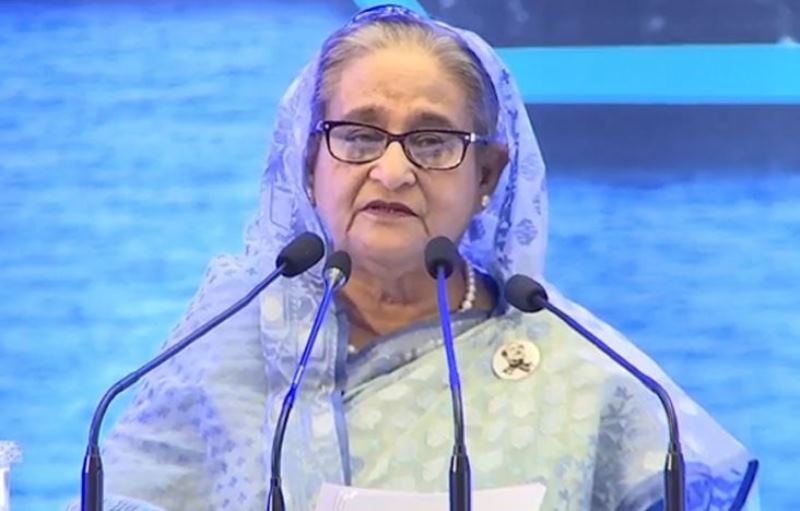 Photo: PID
Next budget will be of Tk 7 lakh crore: PM
Dhaka, May 30: Prime Minister Sheikh Hasina said, we are going to give the budget after two days. In 2006, the budget was only of Tk 61,000 crore. Now we have a budget of Tk 6 lakh crore. We are taking the next budget (2023-24) to Tk 7 lakh crore.
She said these things at the Bangabandhu International Conference Center on Monday at the celebration of 'UN Peacekeepers Day-2023' and paying tribute to the martyred members of the world peacekeeping force.
She said, along with the socio-economic development, we are creating all kinds of facilities for the living standards of each of our forces, each of our people and fulfilling their responsibilities. Our goal is that Bangladesh will continue to stand tall in the world. Today is 2023, after the 2008 elections, a peaceful situation prevails everywhere. Today people's right to vote is guaranteed, right to rice is guaranteed and economic development continues because the democratic process continues.
The Prime Minister said that our progress has been made possible due to a stable environment. A stable, peaceful environment can accelerate the development of a country and make it a developed country. Today we have got the status of developing country. It will be implemented from 2026. By 2041, this Bangladesh will be a developed and prosperous Bangladesh. Bangladesh will be smart Bangladesh.
She also said that through the use of our technology, the use of digital devices, the use of ICT, we have been able to provide Wi-Fi connection throughout Bangladesh. We have provided electricity to every house. Bangladesh will become Smart Bangladesh by continuing the trend of development. We will build smart communities, we will build smart economies, we will build smart societies. All our socio-economic development will be smart. We believe in peace not conflict. Bangladesh always believes in peace. Bangladesh will do whatever it takes to establish this peace.