Finance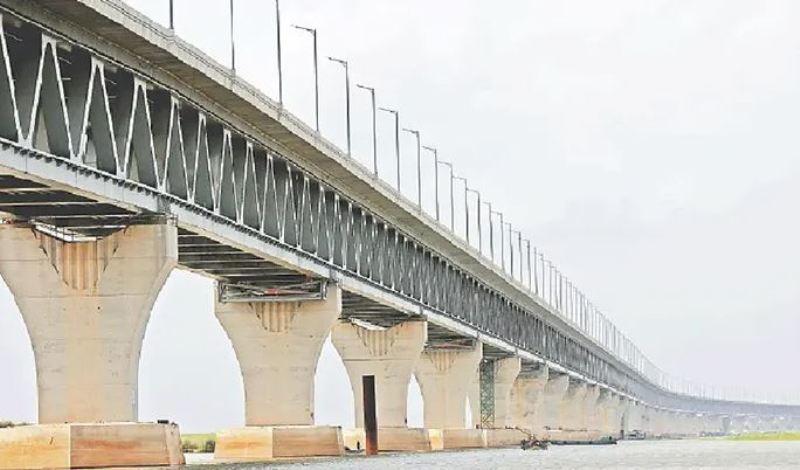 File photo
Padma Bridge will push growth of south-west's GDP up by 2%
Own Correspondent, Dhaka, June 22: After overcoming all the obstacles and challenges, the most-awaited Padma Bridge is going to be opened to the public on June 25. The bridge will contribute 1.23 percent to the country's GDP growth, and the south-west's GDP will increase by 2.3 percent.
With the opening of the Padma Bridge, 21 backward districts in the south-west will be benefited. The districts are Khulna, Bagerhat, Jessore, Satkhira, Narail, Kushtia, Meherpur, Chuadanga, Jhenaidah and Magura of Khulna division; Barisal, Pirojpur, Bhola, Patuakhali, Barguna and Jhalokati of Barisal division and Gopalganj, Faridpur, Madaripur, Shariatpur and Rajbari of Dhaka division.
However, economists believe that it is important to invest in various sectors including garments and tourism in the south to get more benefits from the Padma Bridge.
Dr. Ahsan H Mansoor, executive director of the Policy Research Institute (PRI), said there was a need to boost economic activity in the south to attract foreign investment. The greater the economic activity in the south of the country, the greater its contribution to GDP. With the opening of the Padma Bridge, it will be easier to import goods from the south. Goods will move quickly from one place to another. Growth will increase from one to two percent.
"Investment in the South is needed to get the maximum benefit of the Padma Bridge. There can be investment in all fields. This will increase employment in the country. We need to invest more in Kuakata. People will leave Cox's Bazar and go to Kuakata."
According to economists, after the inauguration of the Padma Bridge, the economic situation of 21 districts in the south and south-west of the country will change drastically. This one bridge will change the destiny of the people of this region. Direct communication will be established with Mongla and Payra ports.
Bangladesh will be connected to the Asian Highway through the Padma Bridge, which will give a new dimension to the economy. Industrial establishments and EPZs will be formed in this large area. Trade and commerce will expand in this backward region. It will have a positive impact on the economy of the whole country.
Although 21 backward districts in the south and south-west have been neglected for a long time, there is continuity of development in these districts after the present government took over. In detail, the bridge will play an important role in many areas, including communication, trade and tourism in South Asia and Southeast Asia.
Economists say the Padma Bridge will add an additional USD 10 billion to the GDP, which will be almost three times the cost of the bridge.