Finance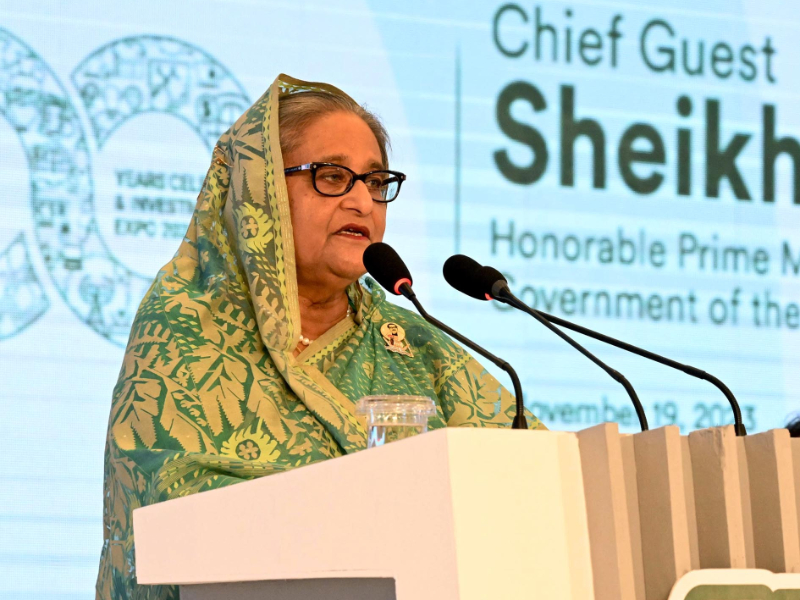 Photo: PID
PM asks for larger foreign investment in Bangladesh
Dhaka, Nov 20: Seeking more foreign investment in Bangladesh, Prime Minister Sheikh Hasina said her government is taking all possible measures to attract greater foreign investment.
She said, "We are taking various measures so that more foreign investment can come to Bangladesh."
The Prime Minister said this while addressing the chief guest at the 60th anniversary celebration of Foreign Investors Chamber of Commerce and Industry (FICCI) and the inauguration of the two-day Investment Expo-2023 at Hotel Radisson Blu on Sunday.
Mentioning that the Bangladesh government has established 100 special economic zones, 39 hi-tech parks across the country and these have been kept open for foreign investment, she said, "If a country wants a piece of land individually, we will give it, and if someone wants to do it in a joint venture. That will also be done or if you want to do it on Public Private Partnership (PPP) basis, that will also be done."
Sheikh Hasina said her government has created several agencies, including Bangladesh Investment Development Authority (BIDA), Bangladesh Economic Zone Authority (BEZA), Bangladesh Economic Processing Zone Authority (BEPZA), Bangladesh Hi-Tech Park Authority (HTPA) and Public Private Partnership Authority (PPPA). One stop service has been introduced in investment development agencies to facilitate investment.
The Prime Minister said, "We have undertaken a plan to make all offices providing investment services fully online and digitized. At the same time, we are continuously working to simplify the investment policy, including tax waivers, remittance royalties, exit policies, dividends and full repatriation of capital, foreign investment protection by law."
The Prime Minister said that her government has recognized supply sector, fourth industrial revolution related sector and tourism sector as industries in the National Industrial Policy 2022 to attract domestic and foreign investment.
Referring to 'blue-economy', she said, "We have formulated new plans to attract investment in the blue-economy sector. Formulation of National Logistics Development Policy is underway with an aim to increase investment in logistics industry and accelerate the development of other industrial sectors through the development of this sector. Bangladesh now has an opportunity to build infrastructure worth USD 350 billion in energy, water, logistics and transport sectors."