Finance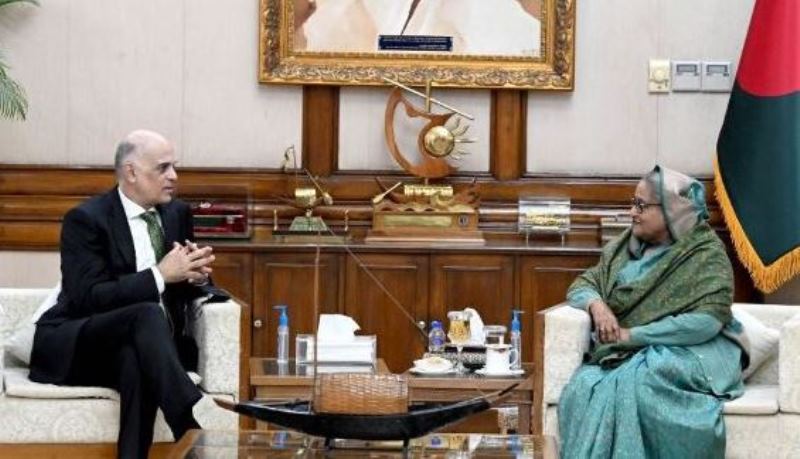 Photo: PID
PM calls for increasing commercial cooperation with Brazil
Dhaka, January 9: Prime Minister Sheikh Hasina emphasized the need to increase commercial cooperation between Bangladesh and Brazil, saying that there is a huge potential for business expansion between the two countries.
She said this when Brazilian Ambassador to Bangladesh Paulo Fernando Dias Feres paid a courtesy call on the prime minister at Ganobhaban, the official residence of the prime minister on Sunday. After the meeting, PM's speech writer Md. Nazrul Islam briefed the journalists.
Sheikh Hasina requested the Brazilian government to take steps to expand bilateral trade and business. In this context, he emphasized the signing of Preferential Trade Agreements (PTAs) or Free Trade Agreements (FTAs) with Brazil and three other Marcosur (Southern Common Market) countries — Argentina, Paraguay and Uruguay. She said, Bangladesh will finally graduate to a developing country in 2026.
Stating that talks on signing PTA or FTA with Marcosur countries are continuing, the prime minister asked to complete the process of signing the agreement soon. He also stressed on increasing agricultural cooperation between Bangladesh and Brazil. Because both countries are agricultural.
Regarding pharmaceuticals, Bangladesh's main export product in the Brazilian market, she said, due to the registration process in the Brazilian market, the pharma items are now facing some restrictions. Sheikh Hasina asked the Brazilian authorities to relax the ban.
Regarding the Rohingya issue, she said Bangladesh has sheltered more than 11 lakh displaced Rohingyas, which has become a big burden for the country.
He said the displaced Rohingya population is increasing with the birth of 30,000 new children every year.
The ambassador said that there is a huge demand for Bangladeshi-made clothes in the Brazilian market. Brazil is likely to be a major market for Bangladeshi RMG products. He said that there is a huge scope for strengthening bilateral cooperation between the two countries, especially in the field of trade and technology.