Finance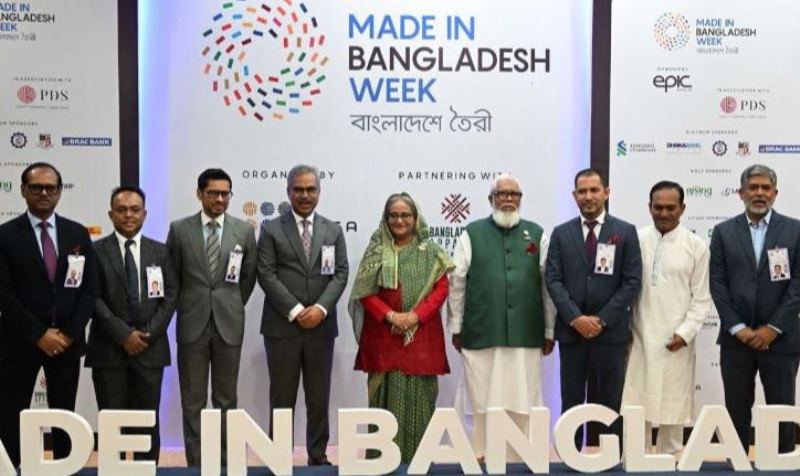 Photo: PID
PM calls on foreign businessmen to invest in Bangladesh
Own Correspondent, Dhaka, Nov 14: Prime Minister Sheikh Hasina has urged foreign businessmen and entrepreneurs to choose Bangladesh for investment and sourcing.
She said Bangladesh is now the most favorable destination for investment. She made this call during the opening ceremony of 'Made in Bangladesh Week-2022' organized by the Bangladesh Garment Manufacturers and Exporters Association (BGMEA) on Sunday (November 13) morning as the chief guest.
The Prime Minister said, "We are establishing 100 Special Economic Zones across the country. As a result, Bangladesh has now become the most favorable destination for investment and sourcing in the world. The country's investment-friendly policies, along with duty-free and quota-free facilities for Bangladeshi products in various countries around the world, are attracting foreign investors. I also request the country's business leaders to welcome foreign investment. You adopt their technology, and knowledge in your industry sector."
Sheikh Hasina said, "The people of Bangladesh are the source of our courage. The socio-economic development of the people is increasing and the per capita income is increasing. USD 2, 824 per capita income now. The purchasing power of the people of this country is also increasing. Our own market is being created. It is not enough to export only, we have to create a market within our own country and during the Corona period, the government has done everything possible to allocate and provide money to the grassroots. It did not make people cry."
She said, "We are hearing the footsteps of the fourth industrial revolution. Those who give labour are the people of my Bangladesh, we want to develop them with better training. Because now the world is moving forward with the new advent of technology due to science. So technology has to be used. We need to develop skilled human resources to suit the fourth industrial revolution. That is why the government has taken steps and is also creating entrepreneurs."
"We have already started working on various measures for the impact this fourth industrial revolution will have on our economy and employment. Our ready-to-wear industry has to accommodate augmented robotic technology, so we're ready, we're building. He urged exporters of ready-made garments to increase production as well as increase quality of cloth and ensure labor-friendly environment," Hasia added.