Finance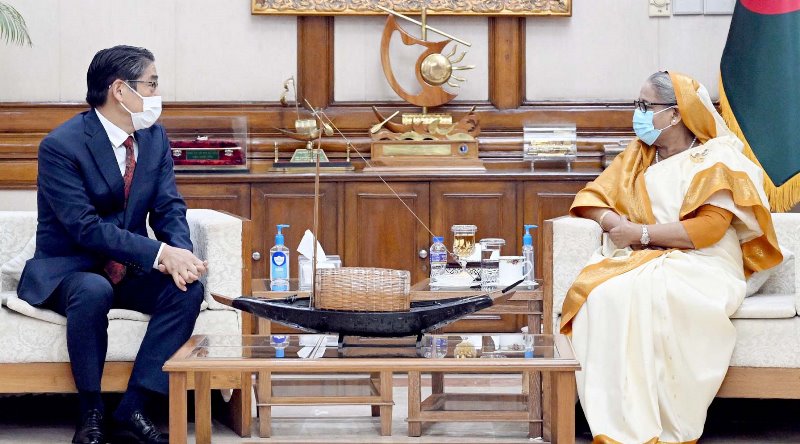 Photo: PID
PM calls upon Japanese businessmen to invest heavily in Bangladesh
Dhaka, December 12: Prime Minister Sheikh Hasina urged Japanese businessmen to invest heavily in Bangladesh.
She said, "Bangladesh is a profitable place for investment. Japanese private companies can invest in Bangladesh on a larger scale."
Hasina made the call when the outgoing Japanese Ambassador to Bangladesh Ito Naoki met her at her official residence Ganobhaban on Sunday.
After the meeting, Prime Minister's Deputy Press Secretary KM Shakhawat Moon briefed reporters. He said, in the meeting, the ambassador of Japan praised the socio-economic progress of Bangladesh under the dynamic and visionary leadership of Sheikh Hasina and expressed hope that this development will continue in the coming days.
The Japanese ambassador also expressed optimism that the socio-economic development of Bangladesh under the leadership of Prime Minister Sheikh Hasina will continue with peace, order, stability and a democratic process.
The Prime Minister expressed hope that the bilateral trade between Bangladesh and Japan will further increase. She appreciated Japan's assistance in implementing Bangladesh's mega projects such as Matarbari deep sea port, the third terminal of Shahjalal International Airport in Dhaka and metro rail.
The Prime Minister sought Japan's continued support for the development of Bangladesh and the ambassador assured to always stand by Bangladesh's development efforts. Sheikh Hasina also sought Japan's cooperation in developing tourist sites allocated for foreigners. The Japanese ambassador described it as a good initiative and expressed his interest to cooperate in this regard.
They also discussed the Rohingya issue in the meeting.
The Prime Minister appreciated Japan's cooperation in developing the language for the relocation of the Rohingyas. She congratulated the Japanese Ambassador for successfully completing his tenure in Bangladesh and for contributing to the growth of bilateral trade between Bangladesh and Japan.
In the meeting, the Ambassador of Japan said that the foundation of the relationship between Bangladesh and Japan was laid in 1973 through the visit of Father of the Nation Bangabandhu Sheikh Mujibur Rahman.